I feel I repeat myself and I usually don't like it, but I will make any excuse necessary to plug this book. I always found the horror genre boring and stupid in the way authors treat their readers. It seems to be engraved in the stone that is the official guidelines to write horror that the human/normal characters are highly mobile screaming morons that will not see what's coming even though there have been plenty warnings and even then, they seem to resort to a McGyverish solution as last resort but only because they are about the only ones left, the monster is about to kill them, all their buddies have already suffered horrible deaths and they are late for the opening of the Starbucks around the corner.
So I bumped into Larry Correia's website by chance and read the sample of his book which back then he was publishing on demand (Internet version of selling from his garage) and I got hooked. All horror creations seem to start with some poor soul being killed by the evil monster but in this book the main character decided to kick ass and park the monster on a gas guzzler. The fight is painfully real as you can almost feel every laceration and broken bone as it happens. Hell I could almost smell the blood and rotting body parts as I sped, slowed down and re-read the descriptions. Cherry on top? The good guy actually gets his own crap kicked out and must spend serious recovery time. Not your typical monster hogwash so it bade well as your non-standard horror book. I ordered the book, got it and read it two times in a row in 48 hours and only stopped under direct threat from the wife who demanded her turn with the book.
According to my dear wife who is a true horror freak, the book has the best of the great horror classics and none of the political correctness or dumbness that plagues the genre nowadays. The monsters are really monsters and not tortured souls with some stupid redeeming value or not-so-veiled sex appeal to entice lonesome bored housewives. Basically you do not imagine the lead vampire as a Fabio look-alike dressed in ruffles but bleeding, stinking, blood dripping creatures that need to be put down ASAP. From a male point of view, it answers the question that any guy has asked before "Why the hell they got into that situation without the proper amount of firepower?". Let's face it, when you start a book shooting a snub-nose and close it with a five kiloton tactical nuke, you know it is a damn good book. However, iIf you are a metrosexual, you may be disappointed at the lack of hair mousse, facials treatments and the extreme level of violence.
Monster Hunter International is available at most of your local chain bookstores line Barnes & Noble, Books A Million, Borders and of course via Amazon.com.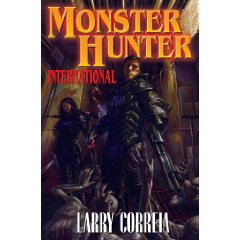 If you want to know more about Larry himself, check his blog Monster Hunter Nation and he was dragged into Facebook screaming and shooting his Saiga by his fans but he finally seems to be warming up to the idea somewhat.
So, what are you doing here? Go get the darn book!