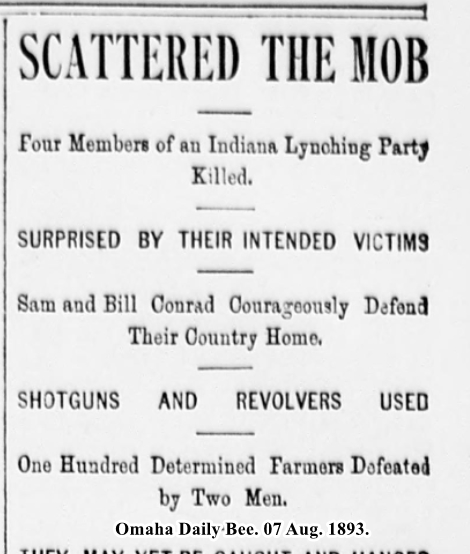 The story is simple: Old man Conrad was found dead and after an investigation, the local sheriff arrested the two sons. The town folk wanted to lynch them, but authorities convinced them to let the justice system work. The trial was done and the sons were found not guilty.
That was not what the people wanted, so several nights later, a mob (some sources said "whitecaps" were the leaders) congregated and went to the house to "speak" with the sons who responded with shotgun shot and revolvers. No lynching.
Helping doing this research I am involved with, has allowed me to read more about lynchings than anybody should as there are some seriously horrifying cases I wish I have never knew about. Only two things I have seen that have frustrated a mob from committing this evil deed: A sheriff moving the prisoner from jail to a secret location ( the minority of times and with about a 50% failure rate) or the use of firearms and the dropping of bodies.
The lesson for today: Keep your guns and keep your very high capacity magazines to help you keep mobs in check.