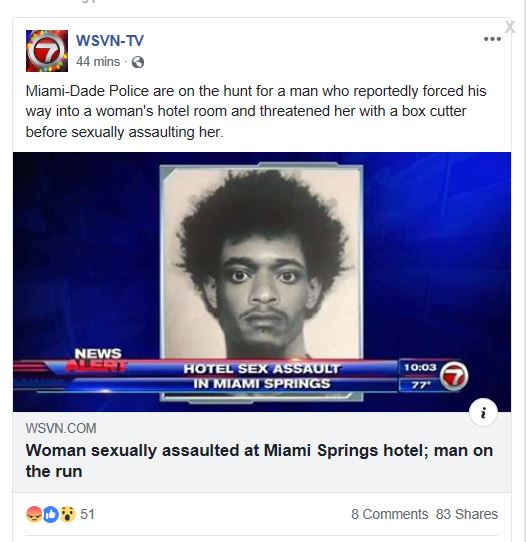 MIAMI SPRINGS, FLA. (WSVN) – Police are on the hunt for a man who reportedly sexually assaulted a tourist at her Miami Springs hotel.
According to Miami-Dade Police, the victim was staying at the Clarion Inn and Suites along Northwest 36th Street, Monday.
The victim heard a knock on her door and went to open it just after 12 p.m. That's when the subject forced his way in.
"Once he was inside the room, a brief struggle ensued," said Miami-Dade Police Detective Angel Rodriguez, "and at which time the offender pulled out a box cutter and sexually assaulted the victim."
Woman sexually assaulted at Miami Springs hotel; man on the run
I have covered hotel security many times before and it seems like a good opportunity to revisit it. Let's start with a sad true: Security in hotels (and pretty much any corporation) is at the bottom of the importance scale  because it does not generate revenue. So, if they can keep expenditures to a minimum, they will do so. They will only change if a problem is detected and it costs them money.
The other issue that hotels have regarding security is that by nature hotels are supposed to be welcoming places, wide open access to the public so they can partake the amenities offered by the place.  Having a tightly controlled access and egress makes guests think "How come they have so much security? Is there something we should know and they are not telling us?" and the will not come back again and even spread the word to friends, family and strangers in Travelocity.
So, as usual, you are your own First Responder and Security Detail.  Let's start with the basic: Does your room door have a peephole? If it does not, ask for a room change immediately. No compromise on that. If you cannot monitor who is on the other side, you are being placed in a trap hole and the possibility of an ambush when coming out.
The words "Housekeeping!" , "Room Service!" or "Maintenance" are not passwords that make you open the door without the need to check first.  "But I asked for more towels/called for faulty AC/ordered supper!" It does not matter, you check, double-check who is on the other side. It still amazes me that people who are mildly conscious and safe at home will suddenly throw caution to the Trade Winds and just behave in a stupid manner because they are in a different location.
But what if you hear a knock and you are not expecting anybody? The first hint that it may be danger is if the knock is not followed with the magic words "Housekeeping!" , "Room Service!" or "Maintenance." But even if they are uttered and you have not asked for any, your alarm system must go up:
Be Loud. Ask  what they want in a tone of voice you know it is gonna bother the neighbors. Let them answer and pretend to be deaf, ask them to repeat themselves loudly. Bad guys seek stealth, not calling attention.
 Tell them (loudly) that you will call Front Desk to confirm they have business in your room. And don't bluff, please call Front Desk. The people at the Front Desk should know if there is a call pending or find out fast if there is one, specially at night. If the answer you get is negative, ask them to send security right away or call the cops. You will call the cops anyway on your own, but you have told Front Desk that there is something wrong and they better step up.
Assume your Defensive Protocol for imminent attack. Basically fancy words saying, get your gun/weapon and take cover. Remain on the ready till things get figured out or the threat leaves. If you do not have a "Defensive Protocol", How about you start coming up with one?
If there was a threat, demand a new room or get out of the hotel altogether if your gut tells you.  There is no shame in being safe. The Bad Guy may have chose the room for a reason and you need to GTFO. The staff may call you silly and even laugh at you behind your back, but screw it. It is your ass on the line, not theirs.
One other thing, hotels rooms should have information packages with all the relevant information of the place, Read It. If the hotel's restaurant ends dinner service at 10 PM and does not start delivering breakfast till 6 AM, you know a Room Service call between those hours are bogus. It also varies per hotel chain, but they may have a minimum housekeeping staff at night for guests calls and same for maintenance. It is very unlikely that you will see them and much less hear them cleaning rooms or fixing stuff unless there is an emergency. The biggest asset for guests a hotel has at night is quiet and they will do the utmost to make it so they don't get calls from pissed off guests complaining about some idiot next yelling at housekeeping at one in the morning.