Politicians politicize, that's what they do.
So without any understanding of the facts, Elizabeth Warren had to spout off some anti-gun bullshit.
Pearl Harbor. Pensacola. Not even our military bases are safe from gun violence. I'm heartsick for the victims and their families. We must end this epidemic and protect the lives of our service members. https://t.co/G1y0uyM0KW

— Elizabeth Warren (@ewarren) December 6, 2019
A foreign service member from an officially friendly nation purchased a gun legally, in accordance with US gun laws.  He obtained the proper permits and passed the required background checks.  When the Left starts to bitch about those background checks, it needs to be noted that he also had to pass the required background checks and security clearances to go to Naval flight schools at Pensacola.
So I'm not exactly sure what new gun laws could have been passed that would have prevented this, but that's never really the point.
A Twitter user responded to Warren's crap statement by calling her out.
https://twitter.com/Mellecon/status/1203031370773278720
This lead to the most absolutely insane and hateful, unhinged back-and-forth with an anti-gun activist.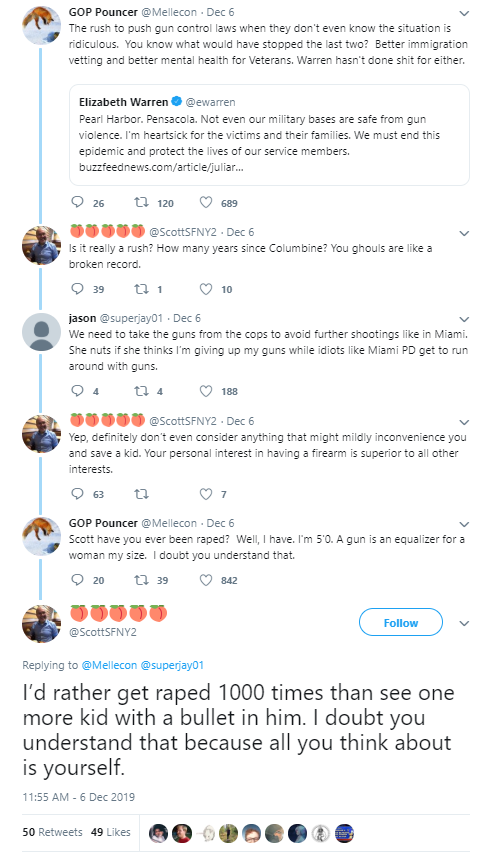 What the fuck?
Seriously… what the fuck?
I guess to the anti-gun activists, a desire to defend oneself from rape is selfish?
A woman who believes in gun rights – and most likely concealed carry, too – is not the kind of person that is going to cause a mass shooting or terrorist attack.  So her desire to preserve her gun rights is not going to add to crime in any way.
I don't know what additional inconveniences that crazy asshole wants put into the system, but I' pretty sure they were already there in this case.
There is no logic here, just moral preening out of blinding ignorance.