The award goes to Indiana's State Rep. Vernon Smith (D-Gary) by attempting to express his opposition to a bill that would allow the Citizens of Indiana to keep their guns locked in the car while at work and eliminates the possibility that Law Enforcement will take guns away (read confiscate/steal) from citizens during emergencies (A.K.A. The Katrina Bill.)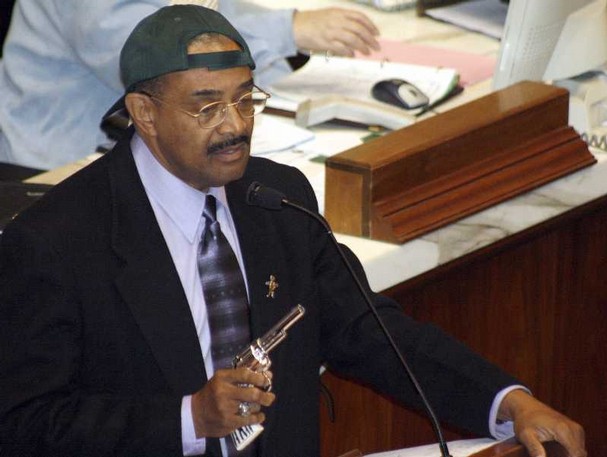 His "reason" for dressing up as a gansta and pop away a toy gun?
Smith said he once became so angry at a man who was picking on him at a dance that if he had a gun, he might have used it.
"It shows you that when you have a gun, how many times you don't think," Smith said.
Whoa there Nelly! The only thing you have demonstrated here is that you are a frigging bigot insulting the people of your own race by dressing like a misguided rapper, you are an idiot that cannot control his emotions and that you hold your fellow citizens in contempt by thinking they are as stupid as you.
The Guns in Cars is another Pro Second Amendment issue that has been settled in many other states already. No massacres have occurred, no employees got pissed off with their bosses, went to their cars, got their guns and killed anybody. None of those doomsday scenarios have played anywhere the law is up and running.
I am so sick of these fear mongering idiots.
Hat Tip and thanks to Tamara. At least I now feel better knowing that Stupid Minority Politicians abound in other regions but Miami-Dade.