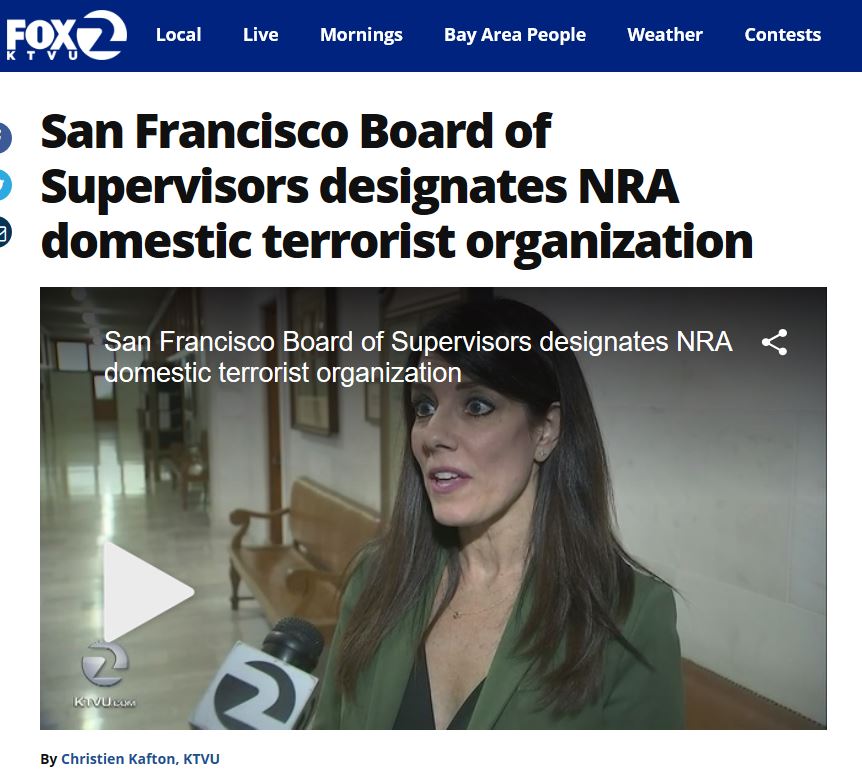 SAN FRANCISCO (KTVU) – The city of San Francisco has formally adopted a resolution calling the National Rifle Association a domestic terrorist organization.

San Francisco's Board of Supervisors on Tuesday took the step of officially declaring the nation's premier gun-ownership advocates a terrorist organization.

District 2 Supervisor Catherine Stefani wrote the scathing declaration reading in part, "the National Rifle Association spreads propaganda that misinforms and aims to deceive the public about the dangers of gun violence."

She continued, "The NRA exists to spread dis-information, and knowingly puts guns into the hands of those who would harm and terrorize us," said Stefani, whose district includes the Marina and Presidio.

"The NRA has it coming to them, and I will do everything that I possibly can to call them out on what they are, which is a domestic terrorist organization," said Stefani.
San Francisco Board of Supervisors designates NRA domestic terrorist organization
This is turning out to be an amazing week for Gun Rights. First we are designated lepers by Walmart and Krogers and now we are tagged as terrorists by the City of San Francisco.
But don't worry, if you are not an NRA member, I am sure your Gun Rights are perfectly safe in SanFran. Just try not to step on human feces while you strut happily.