E.J. Smith is a Firearms Instructor in Charleston, West Virginia.  Mr. Smith is extremely butthurt by West Virginia Senate Bill 347, for permitless concealed carry.  See, Mr. Smith teaches a concealed carry safety course out of his garage.  Seeing his source of supplementary income drying up, Mr. Smith opened his big, stupid, butthurt mouth to the media.
"Has this state gone crazy? Eighty percent of the people who go through my program are doing all kinds of things wrong…Now you want to turn everyone loose with a firearm without any training at all? Not another state will touch us for reciprocation other than Arizona. We WILL lose the 34 states that currently do reciprocate!  I can't believe that the NRA would want this…This is ridiculous and will lead to all kinds of accidents and Old West-type crimes. It will not be safe to live here anymore. When we upped the age (for conceal carry permits) to 21, I said, thank God. Think about how irresponsible and hot-headed you were at 18. Now they ALL can carry concealed without training!…I love my gun rights too, but this is irresponsible to the limit. Law enforcement has their hands full already. You are about to see them flee their jobs in droves. I would…The process is good…Almost no one is denied a permit. When they are, it's for a reason, like domestic violence or a previous felony. Do you really want these people now carrying?"
Not once, but TWICE!!!
"We want our guys to feel safe and knowing that anyone can carry a gun just isn't going to do that."
There are currently seven states that have constitutional carry: Alaska, Arizona, Arkansas, Kansas, Maine, Vermont, and Wyoming.  West Virginia has passed constitutional carry (over the veto of the governor), but the law has not gone into effect yet.  In all of those states, especially the ones that have passed constitutional carry recently recently, I have not heard of any rampages, fender-bender gunfights, or other doom-and-gloom that is predicted as the result of any increase in the right to carry.
Why?  Because it is always the same bullsh*t straw-man, arguments:  A state goes from having no CCW provision to CCW and the streets will run red with blood.  A state goes from may issue to shall issue and will become Dodge City.  A state adopts Stand Your Ground and paranoid shoot-first gun owners will blow away every (usually black) person that twitches.  A state approves campus carry and drunk frat bros will shoot up professors over pop quizzes.  Has any of this ever happened?  No, but why let that stand in the way of hysterics.
At least the miserable turd came clean as to why he is against WV constitutional carry.
"There is not going to be anybody coming out to take a class and spend the money, besides maybe a few people who want their youngsters to learn to shoot or something.  [His business] certainly won't be thriving, and the more likely event will be that I just close to doors on it."
Here, let me summarize Mr. Smith's sentiments for you.  "Screw your rights, I gotta get paid."
The harpies over at MDA have picked up on Mr. Smith's quote, using if for their own nefarious purposes.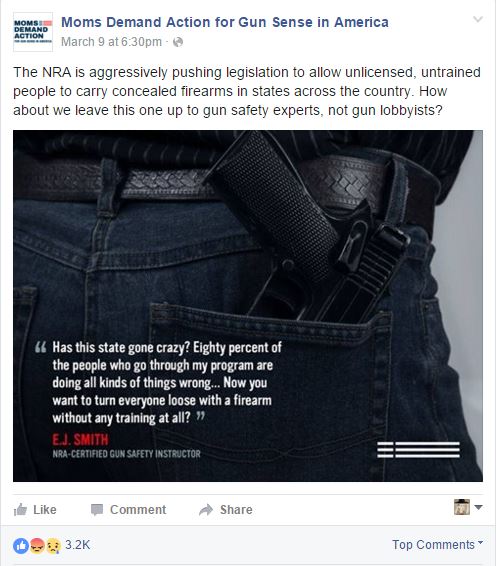 If you are serious about gun rights, you don't give ammo to the antis.  It's a simple principle.  One that E.J. Butthurt has violated in the worst way.  And what caused this transformation to anti-gun Judas?  The potential loss of an at-home gun safety business that I'm pretty sure he's not making a living with.
I've never been to WV and I don't foresee myself going there any time soon, but I am incredibly thankful that the WV State Senate overrode the governor's veto to pass constitutional carry only because it's gonna hit Mr. Smith right in the bank account.
With friends like this… never mind.  E.J. Smith isn't a friend of the gun community.  His belief in gun rights ends with his ability to make a buck.  He's a slimy, sellout, turncoat, quisling.