Shannon Watts morphing into a generic far Left activist is complete.
She decided on Tuesday to go back to the "we can't say bad things about MS-13" hill.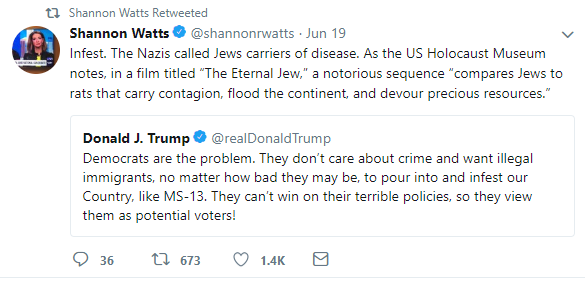 I would have hoped that as a Jew, Michael Bloomberg would at tell her to knock that shit off.  I guess he hasn't.
This line of argument doesn't generate sympathy from me.  It only pisses me off more.
There were no German Jews raping, murdering, and dismembering Germans.  There was no Jewish gang that smuggled drugs and sex slaves into Germany.
The Internal Jew was entirely fake propaganda, not details of real criminal investigations.
But God damnit, she is going to equate the Jews to MS-13 for sympathy.
The comments in her Tweet were even worse.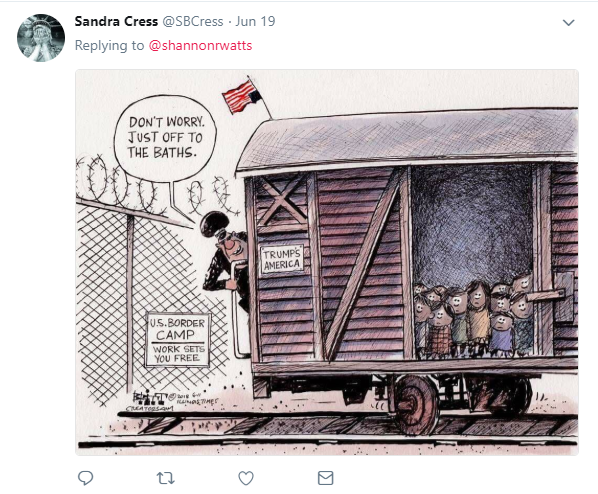 Oh really?  Show me the gas chambers.  Show me the crematoriums.  Show me the doctors vivisecting children.  Show me children being worked to death or bayoneted by guards.
Oh yeah, that's not happening.
Where were the Jews en masse flaunting breaking German law?
There was none of that either.
One tiny fact that the media has not said once, ONCE, is that under the law the children can only be detained for up to 20 days.  Then they are transferred to social services.
The Holocaust started in 1933 which means a victim taken as a child could have been held for up to 12 years, assuming they were not murdered during that time.
How in fuck's name is 20 days the same as 12 years?  It's not.
It is some sick casual antisemitism and repugnant moral equivocation to try and link these two together.