Donald Trump Jr. posted this little meme about socialism.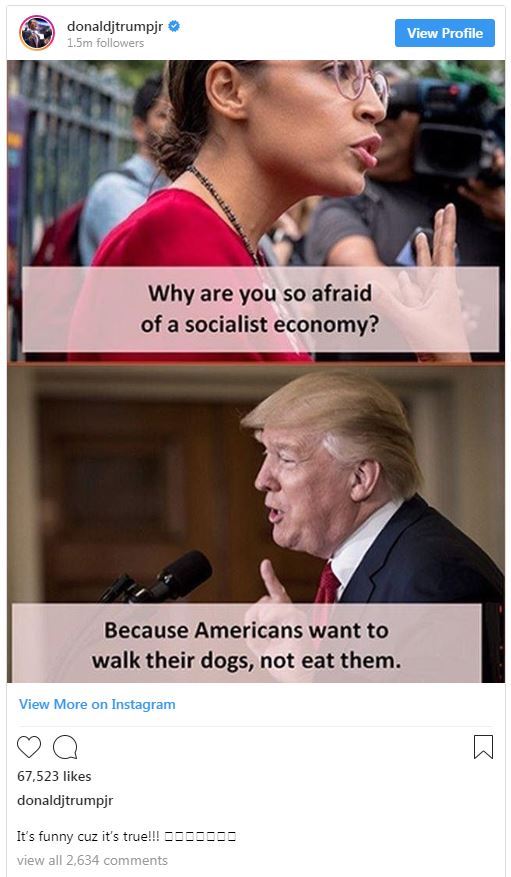 It is true, but it's not funny.
From USA Today:
Venezuela food shortages cause some to hunt dogs, cats, pigeons
"People are hunting dogs and cats in the streets, and pigeons in the plazas to eat," Ramon Muchacho, mayor of the Caracas district of Chacao, said this month in a tweet that was reported in many newspapers.
How did Congresswoman-Elect Alexandria Ocasio-Cortez react to this?
I have noticed that Junior here has a habit of posting nonsense about me whenever the Mueller investigation heats up.

Please, keep it coming Jr – it's definitely a "very, very large brain" idea to troll a member of a body that will have subpoena power in a month.

Have fun! https://t.co/oQ6MsdJYCk

— Alexandria Ocasio-Cortez (@AOC) December 7, 2018
YOU WILL NOT MAKE FUN OF THE RISING STAR OF THE DEMOCRATS!!!
Nothing says "true socialism" like capricious abuse of government power.
Ocasio-Cortez is exactly what our Founding Fathers feared when they banned Bills of Attainder in the Constitution.
She really She Guevara, anybody who isn't in love with her charisma is going to feel the wrath of whatever power she can get her hands on.