This is the depths to which politics has sunk in 2018.
We want you to know that you are not alone. You are a survivor. Millions of us have your back.

We call on Senators to demand a full, fair and trauma-informed investigation.

Signed,
Your Sisters pic.twitter.com/fsGNSH1xpm

— Paola Mendoza (@paolamendoza) September 19, 2018
Did you catch that at 1:21?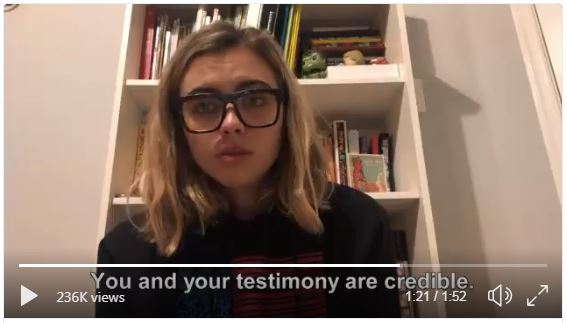 That is Delaney Tarr.  As in Parkland student Delaney Tarr said "when they give us that inch, that bump stock ban, we will take a mile."
What the hell does she have to do with sexual assault?
Nothing.  But she's a famous Progressive youngster and she's going to jump into this with "[Dr. Ford's] testimony are credible."   She, like David Hogg, barely qualifies as a survivor of anything and has now jumped onto the rape survivor bandwagon.
And what the hell is this "your sisters" thing?  Sisters of what?  Sisterhood of rape survivors?  Sisterhood against Kavanaugh?
These women over and over saying that her story is credible without evidence and that they support her is horrifying.
The more crap like this is see, the more it is made clear this is the most evil kind of politics imaginable.  This has nothing to do with Kavanaugh at all.  This is about the Democrats gaining all the power and the Social Justice Progressives engaged in identity politics warfare.
Judge Kavanaugh is just the poor, unfortunate bastard that got caught in it.
But these women have already convicted him, regardless of anything else.
The Senate Democrats released their own video.
We have to set an example for the rest of the nation that we will not dismiss a survivor's claims, and we will not whitewash and sweep under the rug a victim of sexual misconduct just for the convenience of a timetable. pic.twitter.com/9qiurPuOmU

— Senate Democrats (@SenateDems) September 19, 2018
Dr. Ford has now been beatified into a "survivor."  I can't think of anything more prejudicial.  Celebrities and Senators deciding that her accusations are completely true and Kavanaugh must suffer the consequences because all men or some shit like that.
If it seems like I'm taking this personally, I am.  I am 35 years old.  I've only been working for seven years.  I am at the dawn of a career.  I have a four year old son.  I am watching as we enter a world in which an uncorroborated, unprovable, vague allegation of impropriety from years or decades past can be used to destroy a person in real time on TV and social media.
I don't know where my life will take me.  I'd like to start a business some day.
Will I have to worry that if I become a successful CEO that I may be shaken down with "support my cause or candidacy or you will be accused of groping a high school classmate on CNN."
What will the "how to talk to girls" lesson be for my son?
I don't know what the rules are anymore and that is how societies come apart.
When you study the history of totalitarian regiems, or just read 1984, that is a common theme.  When people don't know how what they do today will be judged tomorrow, if the people in favor today are out of favor tomorrow, they retreat into themselves.  Progress grinds to a halt as people become to scared to attract attention to themselves.
This is the dystopia we are headed for.  Conformity or subjugation thought the threat of being destroyed on social media through unfounded innuendo and accusation.