I saw this video on YouTube.
A company that owns property is Portland is tired of all the bums hanging out, outside of one of its tenants' establishments, harming business, harassing customers, and presumably shitting and leaving needles on the property – as bums are wont to do.
The Portland news is as Liberal as the rest of the city so reported on the tactic the property owner uses to keep the bums away.
That story was followed up with this one.
Let me see if I get this right, the City of Portland sides with the bums over the tax paying property and business owners.
Of course they do.
Why defend someone who developed the land and pays taxes which go to the operation of the city when there is a bongos playing homeless guy, begging for weed who wants to violate the tax payer's property rights.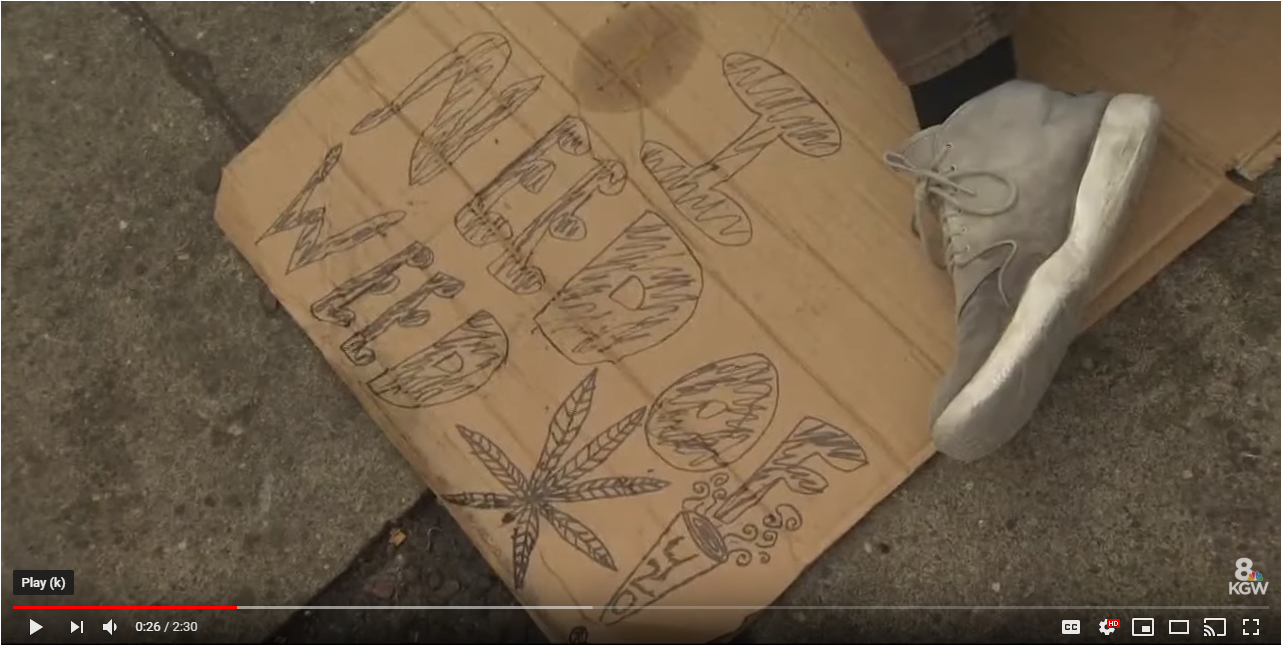 Pictured: what Portland prefer to business. 
The first thought that I know a lot of people have here is something along the line of "Well if the business owners of Portland are tired of being second to bums, they should move out of Portland and let the city crumble."
But that raises the question, why should the law abiding tax payers be forced to flee, and endure the costs and hardships of moving?
I find myself reminded of one of my favorite episodes of Law & Order, back before its was an insane, raging Lefty show (pre-Bush Derangement Syndrome).
Episode 4.02 "Volunteers" was about a homeless man who was attacked in his sleep.  He took up residence in the alley behind a fancy condo building and had harassed the residents for years.  The residents tried to get rid of him but a judge decided he had the right to live in that alley and made the residents pay him damages, which he used to buy drugs.  Finally he hurt a woman who lived there when he robbed her, so her husband beat him nearly to death with a piece of rebar.  The husband was found guilty but sentenced to time served for the day he spent in jail prior to his posting bail.
I'm also reminded of the Soldiers of Odin, which started in Finland and has quickly spread to Sweden and Norway.
My wife and I have disagreements about them.  Yes, they attract white supremacists and neo-Nazis, but they also didn't form in a vacuum.
Tired of hearing about rape after rape of Swedish women by Muslim migrants going unpunished by Liberal judges who value "cultural sensitivity" over punishing sex crimes, these men have started repaying Migrants who get handsy with – or in some cases just leer at – white women with a savage beating with a cricket bats.
Here's the thing, I actually sort of support this.  Extremism begets extremism.  For every action there is an equal but opposite reaction.
When some judge decided that when two Muslim men rape an elderly women gardening in her yard "because they were having a bad day" and that's normal by Middle Eastern culture so they shouldn't be sent to prison, that is Progressive extremism.
So when two migrants start staring at a Swedish girl's ass and then have their teeth knocked in, that's counter extremism.
The way to stop extremism is adopt a more moderate position.  That takes the fuel for the counter extremism away.
All of this brings me to my point.
I'm expecting to see a headline soon "Masked attackers light sleeping homeless man in tent on fire."
And you know what, the people I blame for that is the management of the City of Portland, prioritizing the bums over the tax payers.