As I demonstrated in my last post, Francis "Cultural Appropriation" O'Rourke has been running around the country telling everyone he is going to take away their guns.
He's even selling fundraising shirts with that message.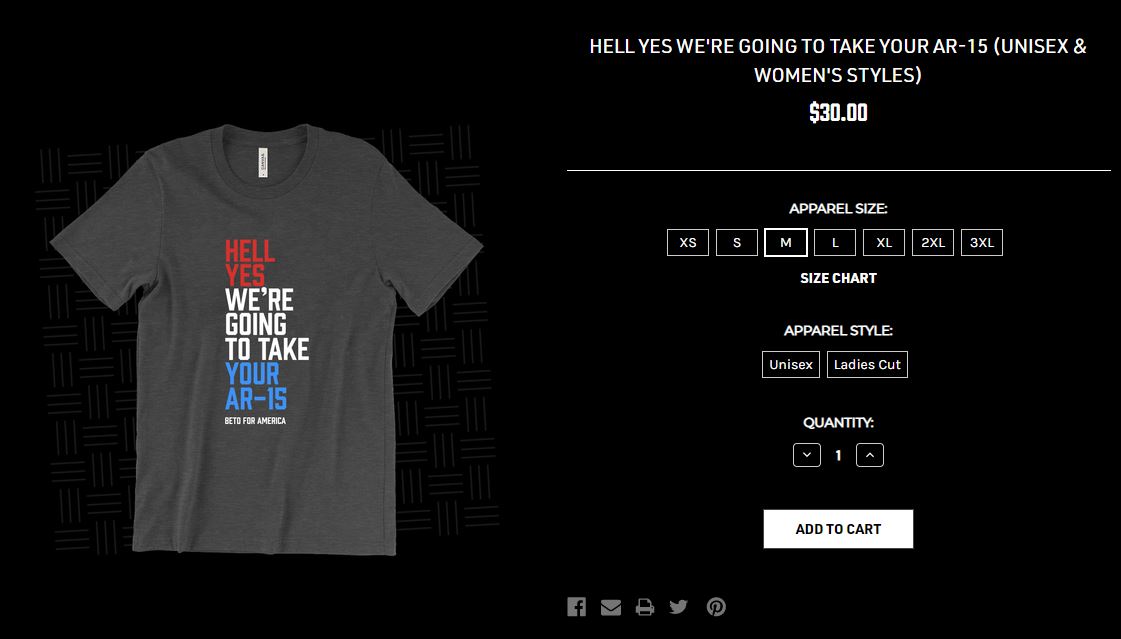 That's the part they are not supposed to say out loud.
"We're going to take your guns" was what anti-gunners said that tinfoil hat-wearing gun-rights activists and the NRA said the Left says to scare them and drive membership.
All of a sudden, Beto has started using the exact language that anti-gunners said was paranoid NRA nonsense.
Now the Democrats are feeling the backlash.
His Holiness, St. Buttigieg of the Sacred Alternative Sexuality* says that Beto is playing right into Republican hands.
CNN's Jake Tapper: "Beto O'Rourke raised some eyebrows by saying 'Hell, yes, we're going to take your AR-15, your AK-47' at the debate… Did Beto O'Rourke say something that's playing into the hands of Republicans?"

Pete Buttigieg: "Yes."#CNNSOTU pic.twitter.com/GnTMaPgchE

— CNN Politics (@CNNPolitics) September 15, 2019
Delaware Senator Chris Coons said exactly what I said above about Beto proving that the NRA was not wrong.
Sen. @ChrisCoons on Beto O'Rourke's "Hell yes" line about taking away semi-automatic guns: "I frankly think that that clip will be played for years at second amendment rallies with organizations that try to scare people by saying Democrats are coming for your guns." pic.twitter.com/YRNZctMx8a

— CNN Newsroom (@CNNnewsroom) September 13, 2019
Bernie has also jumped into the "we're going to take your guns" pool.
So now the question is will the rest of the Democrats running for President back away from Beto's message or will they go full steam ahead into confiscation to appeal to the radical squeaky wheel of the party.
However, seeing some Democrats realize that this radical anti-gun message is not a winner with middle America is fun to watch.
*P.S. I want to make this clear.  That's not an anti-gay dig, that is an anti-Buttigieg dig.  He is an insufferable prick.  I have never seen a politician act so holier-than-thou.  He's the worst combination of SJW and Televangelist charlatan.  He will tell you that he knows that God is angry at you for your carbon footprint but partial-birth abortion is fine because life begins with the first breath since that's in the Bible.  While at the same time he's the victim because Pence hates him for being gay and that makes Pence a bad Christian for denying God because God made Buttigieg gay.