This story has been bouncing around the blogosphere:
A retired teacher is facing 10 years in prison and the loss of his state pension for possessing a flintlock pistol that may not have been fired since George Washington was alive, his attorney told FoxNews.com on Wednesday.

In a case that underscores the Garden State's strict gun laws, Gordon Van Gilder, a retired English teacher and collector of historical items, has been charged with criminal possession of a handgun and faces up to 10 years in prison. If the 72-year-old is convicted, the charge carries a mandatory minimum sentence of 3.5 years and the pension Van Gilder earned as an educator could be revoked, penalties attorney Evan Nappen called "outrageous."
via Flintlock from 1700s could land elderly NJ man in prison | Fox News.
Just like the Taliban destroying historical Buddhas statues because they were religiously "icky", New Jersey considers that a flintlock built around the mid 1700s is a very dangerous weapon an in their minds probably even an assault weapon. They are stupid that way
So this meme came across my Facebook timeline and it needs to be shared: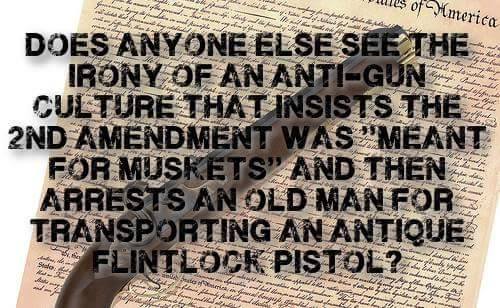 Give that man a cookie!