From Texas:
Woman shoots masturbating bicyclist trying to break into her SE Houston home, police say
Yep, that's how they deal with perverts down in Texas.
A woman opened fired on a masturbating man trying to break into her southeast Houston home Tuesday afternoon, police said.
The woman, in her sixties, was taking out her trash along the 6600 block of Cherrydale Drive around 5:15 p.m. when she spotted the man – riding his bike – masturbating, according to Houston Police Department Lt. Larry Crowson.
That's actually an impressive feat of balance and hand-eye coordination.  I'm pretty sure that he'd do rather well as a performer in San Francisco or Cirque du Solei with that routine.
She yelled at him to stop the lewd act but he persisted, Crowson said.
The man eventually followed the woman to her front door after she went inside and allegedly tried to break in. The woman ordered the man to go away and even told him she had a gun, Crowson said.
When the man refused to stop, she fired one round through her front door, striking the man in his chest.
Serves him right.
So clearly this racist, sexually repressed woman was racist for stopping this man from masturbating his way into her house because Stand Your Ground is racist.  (Actually, this is Castle Doctrine, but the Left gets those wrong so often, why not use it to prove my point.)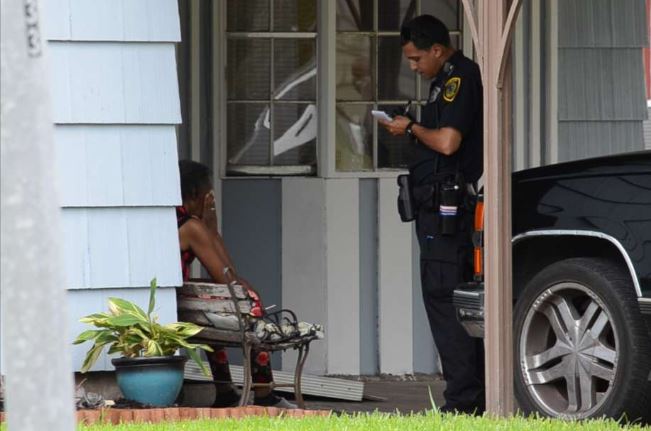 Oh, wait.  The grandmother is black.
Now she's the one who's going to jail.  That's the system.  Black people can't defend themselves.
The woman was questioned by officers and homicide detectives but was not immediately charged, Crowson said. Investigators will work with the Harris County District Attorney's Office to determine if charges are necessary.
"I would have done the same thing if it were my house," said one neighbor, who asked to not be identified. "Ain't no telling what else he was going to do or what he's got. She was protecting her property."
Oh, so she wasn't arrested and her neighbors are vouching for her.
Hmmm…
The man was out on bond for a separate exposure charge from about a week ago, Crowson said. Officers at the scene recognized the man from that arrest, when he was allegedly walking down a busy southeast Houston street in the buff.
Officers initially thought the man exposed himself to the woman's granddaughter, but later determined that was not the case.
I have a feeling she's not going to get charged at all.
Damn.  I thought that clearly the white justice system was going to abuse some black person here because that's what Stand Your Ground (actually, Castle Doctrine, but CNN can't tell them apart) does because it's racist.
Never mind, we'll just have to get our bias confirmation somewhere else.