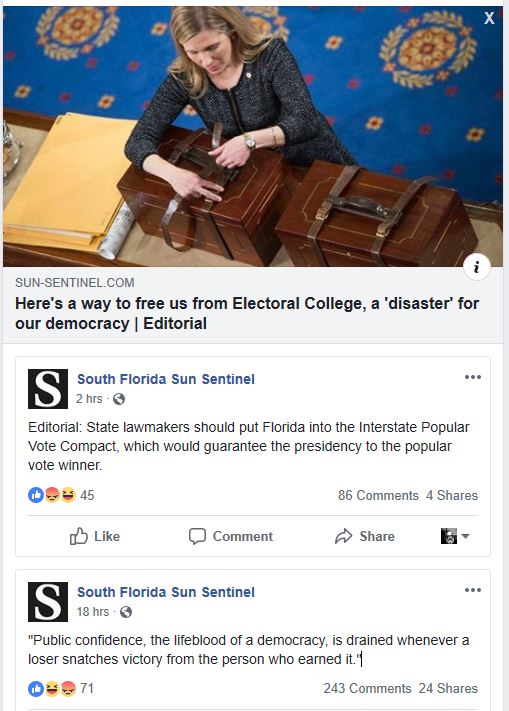 What is the  Interstate Popular Vote Compact? According to Wikipedia "The National Popular Vote Interstate Compact (NPVIC) is an agreement among a group of U.S. states and the District of Columbia to award all their electoral votes to whichever presidential candidate wins the overall popular vote in the 50 states and the District of Columbia."
Let me see if I get this straight: In order to "respect" the results of the Nation's popular vote (which legally count for squat), a state must ignore the results of its people's vote.  The Sun Sentinel editorial thus is saying that it does not matter if Floridians vote overwhelmingly for one presidential candidate in the future, the results must be ignored because the voting results of the West Coast and the Northeast would be more important that ours.
That first election with the compact in place will also guarantee that the following elections will be filled with abstentionism because, if my vote is not going to count even when my candidate wins, why should I give a fuck about voting anyway? And that is how we will end up with Alexandria "She Guevara" Ocasio-Cortes as president and the Venezuelan Socialism as the law of the land.  Bye-bye the Democratic process they claim the   Interstate Popular Vote Compact is supposed to protect.
It is always nice to see a South Florida Media Outlet bowing to its Carpetbagger Masters. May the next round of cutbacks arrive soon.