My stomach is sounding the alarm big time. The old churning-super-fast-spin-cycle warning of incoming doom tells me Hurricane Ike is going to do a tap dancing act in my neighborhood and I hate dancing in general.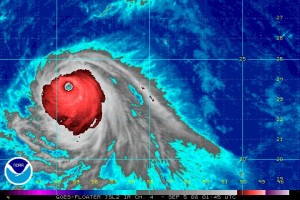 The sucker is ugly as the picture shows and if you take in consideration that he is blowing at 135 miles per hour, what we have is an honest to God fifties horror blob intending on destroying whatever it can swallows.
Tomorrow and the day after are going to be very busy days getting ready for Ike. The shutters are going to be installed, at least in most of the non-necessary openings, generator checked, gasoline hoarded, double check the pantry for items that need to be stocked and of course more water.  Just to be sure I'll go over Southcom's Hurricane Survival Kit which is perhaps the best checklist out there.