Yesterday I published a post I don't think this Dem Oklahoma State Rep gets it so I made some meme to explain it to him.
In it I included this meme: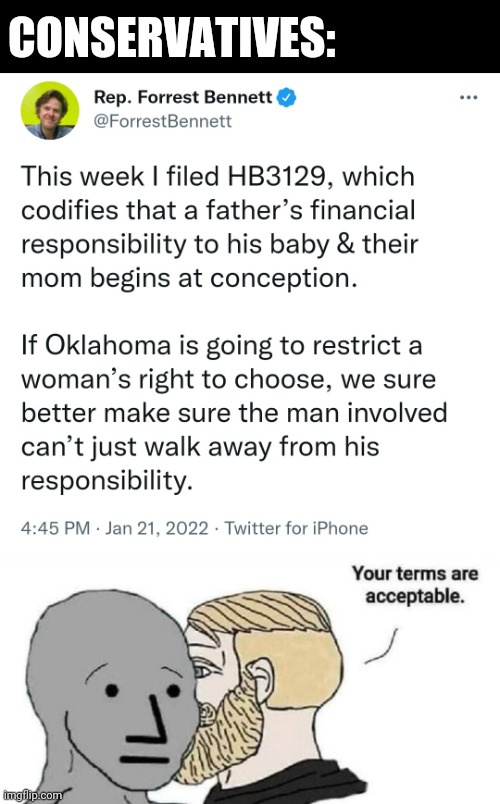 The responses to his Tweet were almost universally the same.
Today we have a follow-up.
Let me get this out of the way: obviously I'm not moving forward with this bill as written. I'm glad many of you understood the idea but it clearly needs work. So to actual constituents of mine like @realmartypeercy who requested that I go back to the drawing board, I hear you.

— Forrest Bennett (@ForrestBennett) January 22, 2022
I'll own this: I should've been more thoughtful & thorough in crafting this bill in the first place. It's clear there are many unintended consequences, both from the language & design. I appreciate folks like @CrownAndJoke & @kendallybrown, among others, for pointing them out.

— Forrest Bennett (@ForrestBennett) January 22, 2022
I understand how the language in my message and bill both hurt the cause instead of helping it, and I apologize for not being more thoughtful. Thanks again to everyone who genuinely engaged with me in an effort to make better policy.

— Forrest Bennett (@ForrestBennett) January 22, 2022
Here is the takeaway:
The Left has absolutely no idea what Conservatives actually believe and instead believe Conservatives are the bullshit strawmen they make them out to be.  The Left then projects the worst aspect of their side onto the Conservatives.  They do this because the Leftist bubble is so thick and their echo chamber is so loud that reality rarely penetrates it.
In this case the Left's mantra is that the Right wants to ban abortion because the Right hates women and wants to control them.
This bill also assumes that Conservative men are like Leftist men when it comes to sexual morals, i.e., easy sex and hookup culture.
This bill was supposed to scare Conservatives, i.e., "you'll be financially responsible for the women you knock up when you sleep around."
If he actually knew any Conservatives he'd know that Conservatives are anti-hookup culture and pro-marriage.  That isn't a talking point, that's real.
But he doesn't actually know any Conservatives or understand what we think so made up a bill that attacked his strawman idea of Conservatives, and when we reacted with completely support if his bill, he had to pull it before it was passed overwhelmingly by the Oklahoma House.
This is a microcosm of politics in America.
If you want to understand why there is no more compromise and why I say we need a national divorce, it's because their side doesn't operate in reality but an echo chamber filled with Conservative strawmen.