I saw this meme floating around the internet yesterday: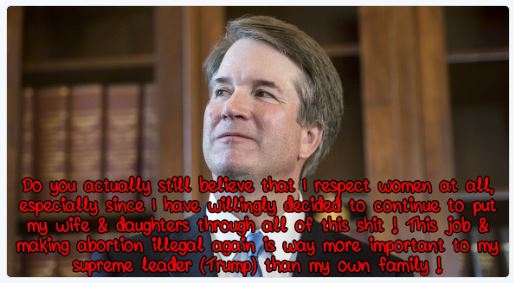 Text:
Do you actually still believe that I respect women at all, especially since I have willing decided to continue to put my wife & daughters through all of this shit!  This job & making abortion illegal again is way more important to my supreme leader (Trump) than my own family!
That is a terrorist meme.
Judge Kavanaugh's wife and daughters have been subject to grotesque death threats.
In addition, they've had to sit and watch a man they love have his reputation destroyed with baseless accusations.
It must be horrible for them.
But it wasn't Judge Kavanaugh that was doing this, it was the Democrats and racial Left doing that.  They are the ones putting Kavanaugh through all sorts of hell to get him voted down or quit.
This meme is literally saying:
"We are going to criticize you for not respecting women because you will not capitulate to our unprecedented and disgusting terrorism of your wife and daughters."
This is the logic of the radical Left.  Their attacks on the women in Kavanaugh's life are not disrespecting women.  Kavanaugh not tucking tail and running when the women is his life are attacked is disrespecting women.
This is pure evil.