According to the Houston Chronicle, professors at the University of Houston "may want to avoid sensitive subjects or drop certain topics from their curriculum altogether" because students will be allowed to carry guns on campus after August 1st.  A slide shown at a UH campus carry debate gave professors and instructors advice on how to change their curricula to accommodate campus carry.  The argument against campus carry being "allowing guns into the classroom will limit academic freedoms and inhibit discussion of sometimes touchy subjects."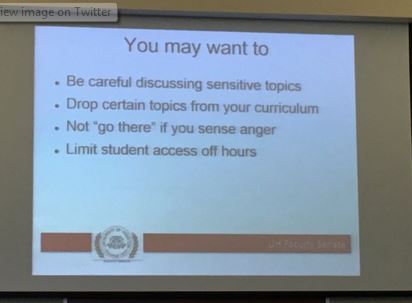 The implication being levied, since these people are too cowardly just to come out and say it, is that students with concealed carry permits will feel triggered or challenged in classroom discussions and react by shooting the instructors or fellow students.  This is demeaning.  This is insulting.  This is factually inaccurate.   This is the academic variant of "CCW will turn every fender-bender into the shootout at the OK Corral."  This is, and I'm being technical here, bullshit.
This is also the most insane mix of projection and a lack of self-awareness.  2015 was the year of student protests.  The protests, beginning at the University of Missouri, have spread to a dozen or more campuses across the country.  These protests have been ugly.  Students screaming bloody murder and cursing professors over an email about Halloween Costumes.  Students screaming at and threatening other students for studying during a protest.  Professors siding with the protesters assaulting students who don't.  Students on the brink of rioting because a conservative speaker came to campus.  Not to mention a whole host of other petulant and ridiculous reasons.  Many, if not all, of these students adhere to the political philosophy of Social Justice, which is an ideology that really doesn't jive with gun rights.
I think it is safe to say that little Ms. Special Snowflake here isn't a fan of campus carry.  If the idea of someone holding an opinion different to her own on campus is a threat to her safety, I can't imagine the way she would lose her mind (and maybe even bowel control) if she found out someone had a different opinion AND and gun in proximity to her.
Activist students protesting over the most tenuous perceived slight, going on hunger strikes, issuing demands to schools containing Stalinistic levels of arbitrary punishments and censorship, and forcing the resignation of Deans and School Presidents; no, none of that is a threat to academic discussion (if you read no other link, read this one).  But some 21 year old student, who has gone through a criminal background check (including fingerprinting), quietly sitting in class with a legally owned pistol in his waistband; that is going to end classroom intellectual pursuits.
Right…..
I'm going to go on the record here and say, as a Ph.D., and as someone who has taught college classes, including having had to fail a couple of students, the idea that campus concealed carry is death knell of academia in America.   Each and every UH faculty member who has bought into this idea is a close minded putz.