I didn't think it was possible for a police department to be more cowardly and inept than the Broward County Sheriff's Department after Parkland, but the Uvalde Police managed to pull it off.
Uvalde school district police chief, Pete Arredondo, who ordered cops NOT to engage Texas gunman is a former 911 dispatcher with an unremarkable career who was elected to city council just days before massacre
Uvalde's school district police chief is under fire for refusing to let his officers engage the active shooter at Robb Elementary School, after the gunman barricaded himself in a classroom as kids cowered inside and called 911.
During a bombshell presser Friday, Texas Department of Public Safety head Steven McCraw slammed Chief Pete Arredondo for failing to engage 18-year-old Salvador Ramos, mistakenly believing the teen had finished his killing spree and was hiding out from cops.
'With the benefit of hindsight, from where I'm sitting now, of course it was not the right decision. It was the wrong decision, period,' McCraw said.
Holy fucking dog shit!
The Chief of Police thought that the shooter had killed all the kids in the classroom and decided that since they were already dead his officers might as well just wait for the tactical team to breach.
That's horrible but it gets worse.
Look at the timeline of the shooting:
There were active 911 calls from inside the classroom while the police were held back.
Actual fucking proof that there were still people alive inside the classroom while the chief assumed they were all dead.
Texas police release timeline in deadly school shooting, revealing that the suspect was inside for 77 minutes. pic.twitter.com/iSD5jISigZ

— BNO News (@BNONews) May 27, 2022
Now let's add this little piece of information: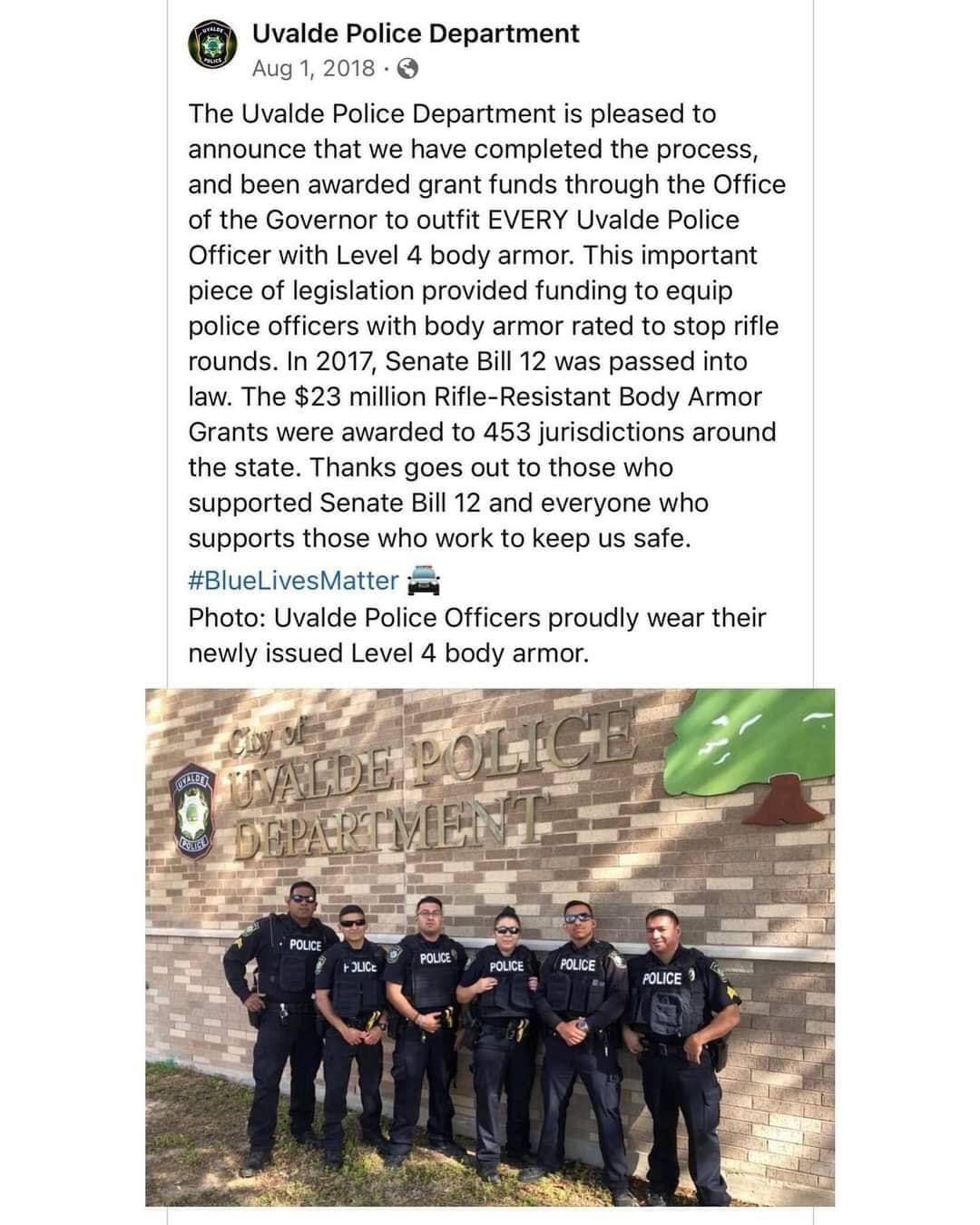 So every Uvalde officer has had Level IV body armor, paid for by the federal government, since 2018.
Every officer had the gear they needed to breach but didn't because fuck it, the kids are already dead, why risk their lives.
But wait, there's more.
Uvalde school police hosted active shooter training in March
The Uvalde school police force hosted an active shooter training session on March 22, according to a department Facebook post.
"Our overall goal is to train every Uvalde area law enforcement officer so that we can prepare as best as possible for any situation that may arise," the post reads. "We have hosted several of these courses and plan to continue to do so."
These feckless fuck-shits just trained on what to do two months prior.
They had the training and the equipment and failed beyond all comprehension.
Heads should roll for this.