I believe we have been savvy enough to properly research gun laws for when we carry across state lines, but I will confess I keep forgetting about carrying knives and that is a field not as "even" (if there is such thing) as  concealed carry.
I have been spoiled by Florida's Concealed Weapons License as it gives you a wide latitude when it comes to knives. And although many states are very knife friendly, there might be certain restrictions regarding some silly characteristic of the knife and some states actually frown upon anything that is not an "ordinary knife."
IANAL Warning: I have no idea what legally defines an ordinary knife. I would have to look up the local jurisprudence and State Attorney interpretations, but I believe that something as well known as the Swiss Army Knife would be hard pressed to be considered anything but an ordinary knife.
I have told here many times I have not been without a Swiss Army knife since I was gifted one in my early teens. As great as they are, they are not "tactical" enough for some folks because the main blade does not lock open and that can be an issue when the doodoo hits the wind turbine.  But, there is one exception to the rule and that would be the Victorinox Swiss Army One-Hand Trekker.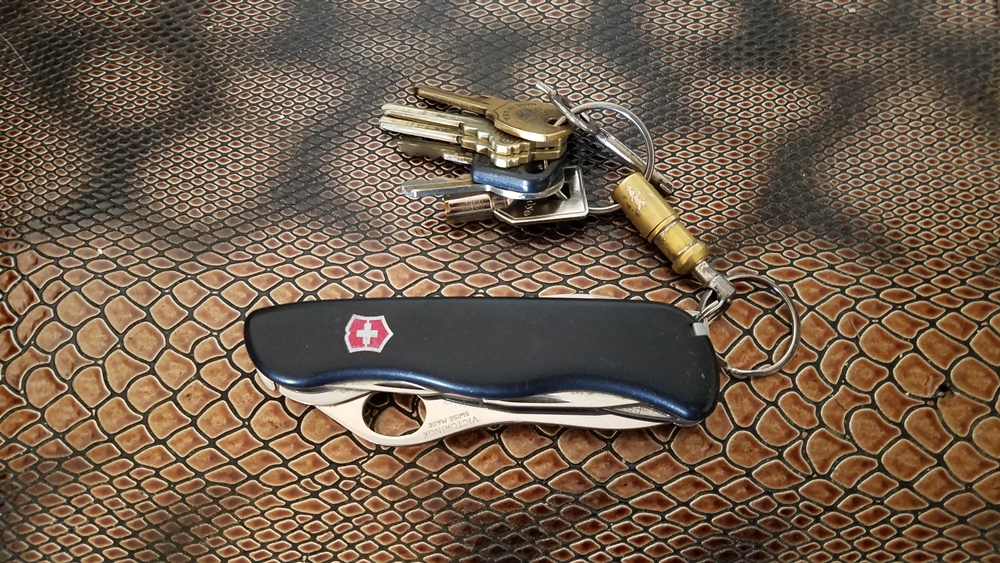 This is one of my EDC knives and has to be because those are the house keys attached to it.  And although it is not in the official Swiss Army red, the shield and the cross are universally knows to be Swiss Army Knife.
It is one hand operated with the use of the thumb and quite comfortably to boot. But caveat: The main blade is the only one that locks, anything else is standard.  The other quirk is that the lock tab needs to be pushed to the right to unlock the blade rather than the traditional push to the left which should endear it with the Southpaws.
And I know the fans of Case knives will rightfully point out that the company does have several offerings with locking blades and what can be more "ordinary knife" than a Case?
And you are welcome to share your solutions in the comments.