I touched on the Covington Catholic School kids once today, from the perspective of the Left's rapidly growing anti-Catholic bias.  I'm going to touch on it again from another perspective.
I love this cartoon, and its relevance to this situation cannot be overstated.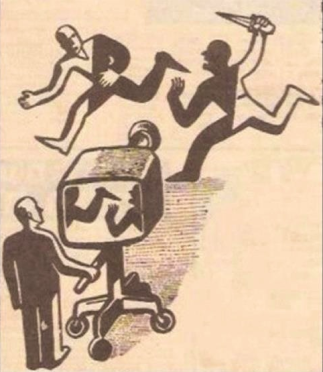 This is exactly what happened.
Reason Magazine does an excellent breakdown, with evidence, of how the media reports of the interaction with the kids and the Native American man were wrong to the point of being the dead opposite of what really happened.
The Media Wildly Mischaracterized That Video of Covington Catholic Students Confronting a Native American Veteran
Journalists who uncritically accepted Nathan Phillips' story got this completely wrong.
If you go on Twitter, what is being said about these kids is beyond horrible.
#ShutdownCovingtonCatholic and #CovingtonShame are a trending hashtags.
Then there are Tweets like this: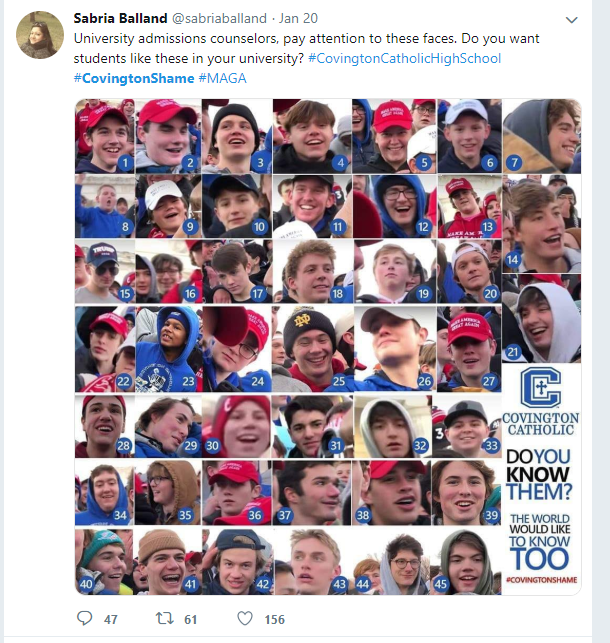 What this is, is the systematic destruction of the lives of a bunch of kids who had the misfortune of being on a school field trip on Friday.
The image that has become the icon of this narrative and the feelings that have gone along with it are perfectly paired in this Tweet.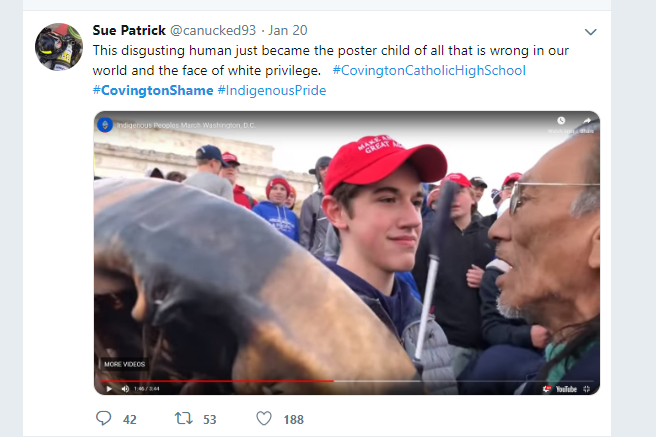 That kid released an official statement.  Here is his side of the story, backed up by video evidence.
After a few minutes of chanting, the Native American protestors, who I hadn't previously noticed, approached our group. The Native American protestors had drums and were accompanied by at least one person with a camera.
The protestor everyone has seen in the video began playing his drum as he waded into the crowd, which parted for him. I did not see anyone try to block his path. He locked eyes with me and approached me, coming within inches of my face. He played his drum the entire time he was in my face.
I never interacted with this protestor. I did not speak to him. I did not make any hand gestures or other aggressive moves. To be honest, I was startled and confused as to why he had approached me. We had already been yelled at by another group of protestors, and when the second group approached I was worried that a situation was getting out of control where adults were attempting to provoke teenagers.
I believed that by remaining motionless and calm, I was helping to diffuse the situation. I realized everyone had cameras and that perhaps a group of adults was trying to provoke a group of teenagers into a larger conflict. I said a silent prayer that the situation would not get out of hand.
So this teenage boy was in over his head and just froze, hoping not to make the situation any worse.  This was twisted into "staring down" and "mocking" and old Native American man.
The internet has decided that this boy should pay for his act of doing nothing for the rest of his life.  His friends and family too.
As a father this scares the ever loving live fuck out to me.
What do I do with my kids?  At this point, never letting them go on a class trip to DC is a start.  God know what interaction they could have that a cropped cellphone video, deliberately cmisharacterized on CNN could do to them.  Their lives ruined by a hashtag and Twitter hate mob before the truth can get its pants on.
And I realize, this is the point.
The Left has democratized the worst aspects of totalitarianism.
I grew up listening to the stories of the Cuban Revolution from the grandparents of my friends in Miami.
One of the things I remember is being told about the spies that would attend the anti-Castro rallies.  The spies would report who was at these meetings to Castro's goon squads and they would be killed and their families killed too.  In very short order, there were no more anti-Castro rallies because people were too terrified to speak out.
If you attend the Women's March and say horrible shit about the Jews, the media will back you to the hilt.  Your every action excused.
If you show up in DC with a MAGA hat and respond to an adult beating a drum in your face with stoicism, you and your family will be sentenced to death by social media.
In 2019, the Socialist goon squads do not carry clubs and rifles, they carry cellphones.
They don't beat you to death in a field or stand you up against a wall and shoot you.  They ruin your reputation, harass your school and get you expelled, they harass your employer and get you fired, they trash your parent's business on Yelp and bankrupt them.
Every Leftist with Twitter account and a camera phone is a potential goon who can destroy everything you worked your entire life for in an instant of selectively edited video.
I can't imagine where as a nation we go from here.  When the opposition to any Leftist position isn't crushed by the jackboot of goverment but by an army of private citizens as an internet hate mob.
This can only end badly, unfortunately, since one side benefits from this, they are disinclined to stop it.
All I want to do is lock my doors, hide my children, and delete my barely existent social media, before we are ruined by some Lefty with an axe to grind.
And that is how they win.