I mean this with completely sincerity.
The enormity of what the gender transition industry is doing is tantamount to the surgical mutilations performed my Dr. Mengele at Auchwitz or the medical experiments conducted by Unit 731 under Dr. Shiro Ishii.
In a sane society, these people would be arrested, tried against humanity, and hanged by the neck until dead.  Those who escaped trial by fleeing the country would be hunted down and shot.
Miguel sent me this, it's part of a story that I saw somewhere else on social media and have been struggling with because it's so evil that it makes the blood pound in my ears.
TikTok Doctor Performed Breast Removal on "Trans" 13 Year Old Girl
Disturbing details uncovered by internet sleuths found that a surgeon infamous for advertising invasive "gender affirming" procedures on TikTok removed the breasts of a 13 year old girl, who is now also pursuing a hysterectomy at age 15.
Dr. Sidhbh Gallagher, a Miami-based plastic surgeon, rose to internet fame after making quirky TikToks aimed at minors, primarily girls, pursuing "gender affirming" procedures.  She became most associated with her infamous catchphrase – "yeeting the teets" – a flippant, joking way to refer to performing cosmetic mastectomies, or breast removals, to her primarily underage female audience.
Her TikTok is horrible.  Absolutely groomer behavior.  This woman has a Mengele-esque fetish for surgically mutilating children.
This most recent case is the worst yet.
theposieparker; 13 and covered in scars, all self harm, some with the help of the sociopath in blue. pic.twitter.com/aq9LFFvR5s

— Standing For Women (@StandingforXX) December 20, 2021
theposieparker The butcher, munchie Mom and thirteen year old girl. #trans #evil pic.twitter.com/gYsIrCoBsH

— Standing For Women (@StandingforXX) December 20, 2021
This picture is critical: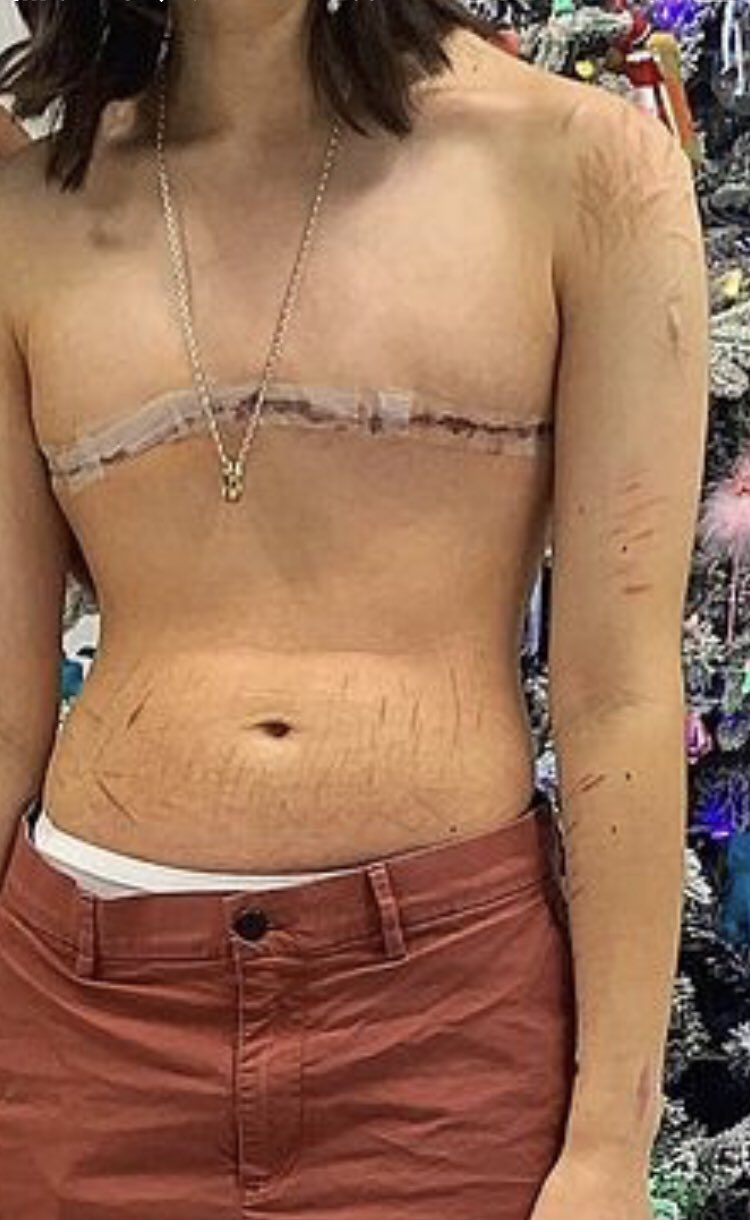 On her stomach, shoulder, and arms are the scars of a girl cutting herself.  Self harm, cutting, is a sign of severe mental and emotional issues.
There is something terribly wrong with this girl's mental state and I can guarantee that the cure is not performing a radical double mastectomy at 13.
This is more self harm carried out by a surgeon who has a fetish for doing this to teenage girls with emotional problems.
This is a sickness in our society.
Amputation of healthy organs from emotionally unbalanced teenagers is unmitigated evil and should be a crime against humanity.
That there is an industry that supports this makes me surprised God is not raining fire and brimstone down on us.
When we get through this new Dark Age of Woke, and societal rights itself, there needs to be a reckoning for the people that mutilated children this way.