… not screwing around with the sidearm.
YOUNGSTOWN, Ohio -A Youngstown man remains in jail on $25,000 bond accused of shooting a three-year-old in both legs. The young girl is in Akron Children's Hospital recovering from her injuries.
Police are holding Dionte Robinson responsible for the crime.  On Monday he faced a judge via video arraignment on a child endangerment charge.
Detectives say Robinson was visiting the child's mother at the East Boston Avenue home on Saturday. The three-year-old family friend was sitting on Robinson's lap when he allegedly went to move a gun that was in a holster on his waistband because it was uncomfortable. That's when the gun discharged, firing one bullet into both legs of the young victim.
The suspect's family and police say he has fully cooperated with authorities.
21 News has learned that Robinson has a Conceal Carry Permit that was granted through Trumbull County in April of 2015.
Source: Family of suspect says shooting of 3-year-old was an accident – WFMJ.com News weather sports for Youngstown-Warren Ohio
I guess it is time again to remind everybody that if you are going to carry, you do so with the proper ancillary equipment and the proper and  firearm manipulation. If you buy one of those cheap ballistic soft or semi-soft nylon holsters, even if they cover the trigger, you are asking for a negligent discharge.
Let's go on the economics alone: Those cheap holsters run $35 and under and a saavy man may consider a wise expenditure of money. Now, if you find yourself in a case like Mr. Robinson's, your savings not only disappeared but a good chunk of savings will also disappear or you will acquire a hefty debt in lawyer and legal fees plus the loss of income for being in jail while waiting to make bail…another expense. Next comes the criminal charges and again in the case of Mr. Robinson he is facing a minimum charge of first degree misdemeanor, punishable by up to 180 days in jail and up to a second degree felony, punishable up to 8 years prison. If I am reading Ohio Law right, he lost his permit for good if he is found or pleas guilty even for the misdemeanor.
And, of course: Don't do stupid shit with the gun like trying to get comfortable while carrying a kid in your arms.  If you need to figure out how to carry both a sidearm and a kid, contact Melody Lauer who is pretty much the only one I know covering that issue.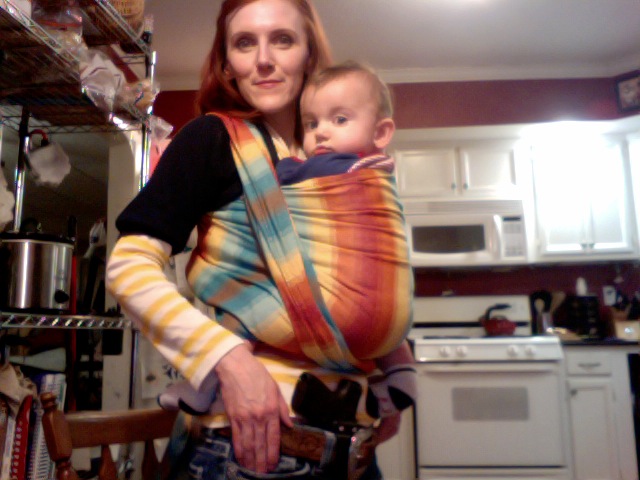 Hat tip to @SFDB, because even Liberal Gun Control Fascists have their use.