OZYFEST is some sort of ultra-Left wing music and politics fest that took place in NYC over the weekend.
This was one of the ads for it: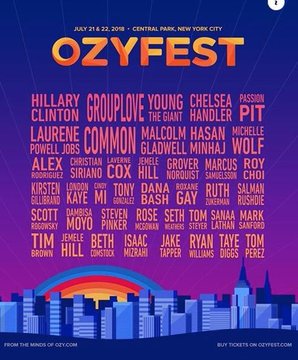 Talk about an insane echo chamber of politics and pop culture.
So this is what Senator Gillibrand, who is on the list of Presidential hopefuls, said the Democrats will do if the Blue Wave takes over the House and Senate.
Abolish ICE
"Humanitarian" immigration reform
Ban everything gun and accessory they can
Universal background checks
Medicare for all
Guaranteed jobs
Abolish ICE and humanitarian immigration reform means open borders.  Gun bans and universal background checks means gun registration and no grandfathering.
Then she has the audacity to say that Obamacare was too conservative and that was the problem with it.
Guaranteed jobs means people getting paid to do nothing because they can't get fired and the bureaucrats who oversee the system will protect the budget of their program over everything else.
This is about as radical as they can get without actually saying "We're going to void the Constitution and make America a Communist nation."
These people have gone entirely off the deep end.  I can't think of a better ad for the Republicans to run than that clip.