From The Daily Mail:
Parents of elite $56,000-a-year Columbia Grammar & Prep rail against school for hiring new sex ed teacher who uses animated videos to teach about gender identity and how to use puberty blockers
Parents at an elite private school in New York City are railing against the school for hiring a new sex ed teacher who uses the same controversial videos as a previous educator who was at the center of last year's 'porn literacy' scandal.
Lindsay Fram, also known as 'Sexually Smart' on Twitter, is expected to teach four sessions next month at Columbia Grammar & Preparatory School in Manhattan's Upper West Side neighborhood.
The concern comes less than a year after a former teacher, Justine Ang Fonte, conducted an explicit 'porn literacy' workshop for students without the parents' knowledge.
Fonte was also blasted for using the controversial Amaze sex education video series, which teach kids about gender identity and how they can use puberty blockers.
The students at Columbia Grammar and Preparatory School on Manhattan's Upper West Side were told to watch a slideshow entitled, 'Pornography Literacy: An intersectional focus on mainstream porn.'
The workshop included photos of partially nude women, some in bondage, and references to the most common terms on porn, such as 'creampie' and 'gangbang.'
The teens were also shown statistics on the 'orgasm gap' showing straight women have fewer orgasms with their partners than gay men or lesbians.
Another slide cited various genres of porn, such as 'incest-themed,' consensual or 'vanilla,' 'barely legal,' 'kink' and BDSM.
This is Fram's Twitter profile: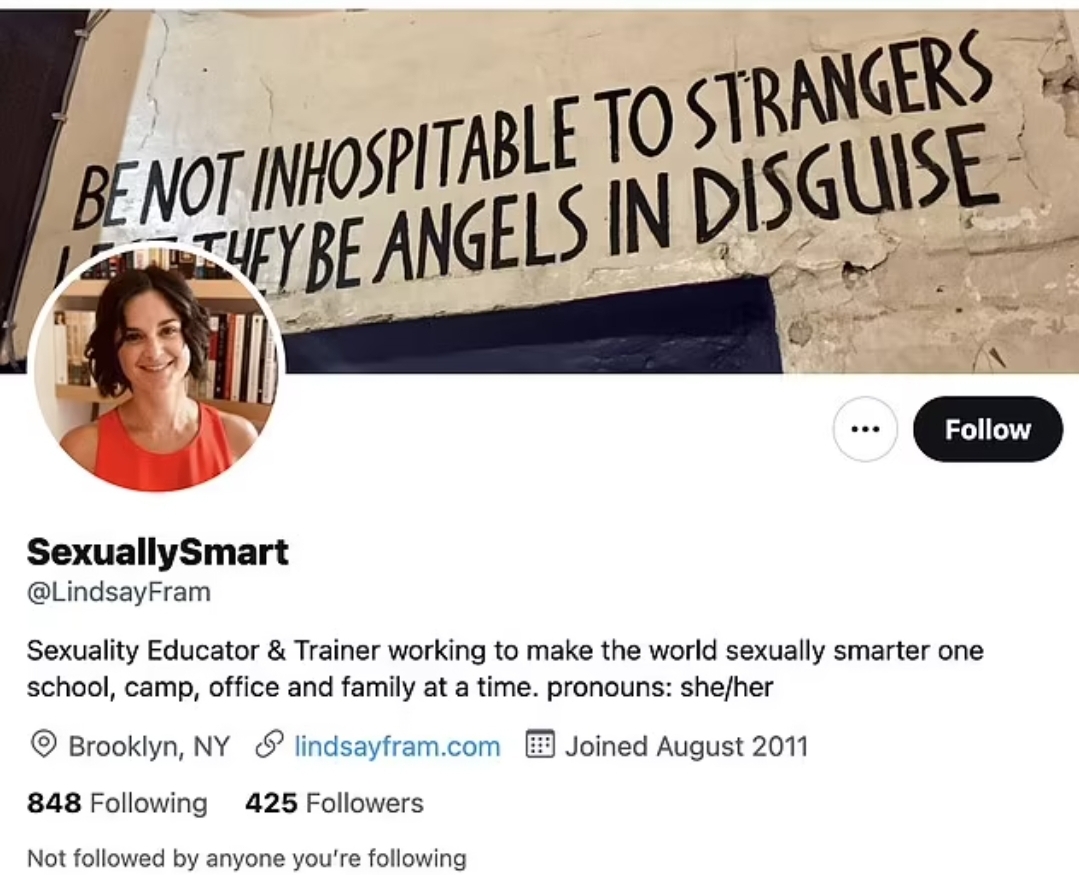 How is this anything but grooming by a groomer?
What sort of person says "I want to show porn to kids for a living."
The concept of porn literacy is probably the most disgusting, considering the schools do not care about any other forms of literacy which is why two-thirds of middle school students are below proficient in reading.
Little Johnny may not be able to read Hop On Pop (assuming Dr. Seuss books are still allowed in school) but knows all about different categories of porn.
And what is the point of teaching about the "orgasm gap" (assuming that's even a thing) other than to imply "if you want to have more orgasms don't be straight."
This is an organized and apparently multi million (or billion) dollar industry to bring professional groomers into schools.