This is such an absolute shit show it's hard to know where to start, so let's go all the way back to the beginning.
Gretchen Whitmer is the Governor of Michigan.  When the lockdowns started, Whitmer's response was noted for being obscenely arbitrary and nonsensical.
For instance, hardware stores sold essential items so were open, but paint and seeds were considered non-essential, so those items were taped off with caution tape.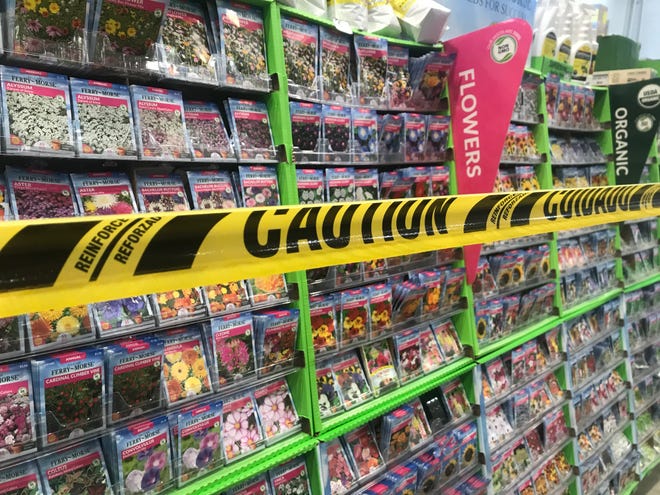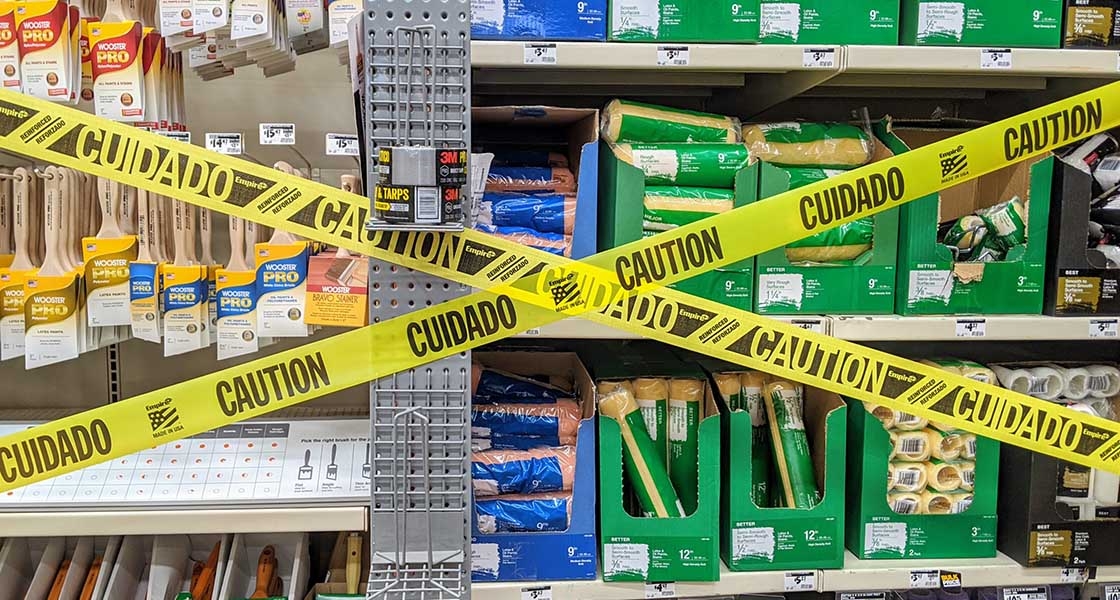 Whitmer banned people who owned multiple homes in-state to going to their non-primary residences.  So if you lived in a city, and wanted to enjoy some fresh air at your cabin in the UP, you couldn't travel to your second home and shelter in place there.  In the same state.
On the other hand, Whitmer was one of several governors who put COVID positive patients into nursing homes, going so far as to use nursing homes as storage for COVID positive patients from mental hospitals and group homes.
People got fed up with Governor Whitmer's emergency power grab and lockdown shenanigans and sued her.  It went all the way up to the Michigan Supreme Court, which decided against Whitmer.
Michigan's highest court confirmed in a landmark decision Friday that Gov. Gretchen Whitmer had overstepped her authority by repeatedly issuing emergency COVID-19 declarations without ever getting the approval of state lawmakers.
In a narrow, 4-3 vote, the court held that Whitmer violated state law by not working with the legislature, The Detroit News reported.
Whitmer, in a brazen act of totalitarianism, told the court to go fuck itself and refused to give up power.
Seriously, she released an official statement on the Governor's webpage.
Governor's Orders Remain In Effect for At Least 21 Days; Thereafter, Many Public Health and Other Rules Will Continue Under Alternative Authorities
"Today's Supreme Court ruling, handed down by a narrow majority of Republican justices, is deeply disappointing, and I vehemently disagree with the court's interpretation of the Michigan Constitution. Right now, every state and the federal government have some form of declared emergency. With this decision, Michigan will become the sole outlier at a time when the Upper Peninsula is experiencing rates of COVID infection not seen in our state since April.
"It is important to note that this ruling does not take effect for at least 21 days, and until then, my emergency declaration and orders retain the force of law. Furthermore, after 21 days, many of the responsive measures I have put in place to control the spread of the virus will continue under alternative sources of authority that were not at issue in today's ruling.
As the Babylon Bee so eloquently put it:
Governor Whitmer Refuses To Throw Ring Of Power Back Into Fires Of Mount Doom https://t.co/z2zbYrHRpN

— The Babylon Bee (@TheBabylonBee) October 3, 2020
Remember, when the Democrats say that Trump is a tyrant who oversteps his authority and will refuse to give up power, that's just projection.  Whitmer was a forerunner to be Biden's VP until the BLM uprising required the Democrats to pander by picking a POC VP candidate.
Now the stage is set for what comes next.
From the Detroit News:
Plans to kidnap Whitmer, overthrow government spoiled, officials say
Federal agents said Thursday they thwarted a plot to violently overthrow the government as well as kidnap and harm Michigan Gov. Gretchen Whitmer — a conspiracy that included visits to her home in northern Michigan and training with firearms and explosive devices.
The alleged plot mainly involved six conspirators unhappy in part about Whitmer's coronavirus restrictions, calling her a "tyrant." They wanted to create a "self-sufficient" society free from what they called unconstitutional state governments and discussed plans to storm the Capitol and take hostages, according to FBI documents filed in court.
From the Detroit Free Press:
Feds say plot was bigger than kidnapping Gov. Whitmer. It was civil war attempt.
The Wolverine Watchmen militia group didn't just plot to kidnap Gov. Gretchen Whitmer, but they were on a mission to attack the state Capitol and target police officers at their homes as part of a broader mission to instigate a civil war, authorities said Thursday in announcing felony charges against 13 militia members accused in a sensational case of domestic terrorism.
Nessel's comments follow the filing of an FBI affidavit in U.S. District Court that alleges six militia members plotted a revolt on the government that included kidnapping Whitmer.
Nessel said the suspects called on other members to identify the home addresses of law enforcement officers in order to target them, "made threats of violence to instigate a civil war leading to societal collapse" and engaged in the planning and training for an operation to attack the state Capitol building and kidnap government officials, including Whitmer.
According to the FBI affidavit, the accused purchased items including a Taser and night goggles, conducted surveillance at Whitmer's cottage, and discussed blowing up a bridge to divert police, kidnapping Whitmer, and taking her to Wisconsin to face a "trial" for treason.
The three bullet points to take away are:
They wanted to kidnap the Governor for "treason."
They wanted to attack police/law enforcement
They wanted to bring about societal collapse
Points 2 and 3 really don't seem like Conservative, Republican, Right Wing positions, considering that Trump has positioned himself as the law-and-order candidate and the Right has gone "back the blue" against Antifa and BLM anti-cop rhetoric.
Good thing there is video of one of the leaders of this group to tell us what he believes in his own words.
Wow! This is big. Brandon Caserta, one of the ringleaders of the group of men arrested for a plot where the group planned to kidnap Gov. Gretchen Whitmer hated President Trump too!

"Trump is not your friend dude"

He says that Trump is "a tyrant" and describes him as an "enemy". pic.twitter.com/SgaGOW8cS5

— Robby Starbuck (@robbystarbuck) October 8, 2020
Watch this video of Brandon Caserta. He was arrested for plotting to kidnap Gov. Gretchen Whitmer. In this video he poses in front of an anarchist flag and calls police "a violent gang" and "enemies". He's an anarchist who hates government and police. pic.twitter.com/gYxaDQXcIj

— Robby Starbuck (@robbystarbuck) October 8, 2020
"By you participating in the government, you're participating in slavery dude for everyone else."

He says voting for anyone "is admitting that you believe in the legitimacy of authority which means you believe in the legitimacy of slavery."

Brandon Caserta is an anarchist. pic.twitter.com/8ypXeAP4kH

— Robby Starbuck (@robbystarbuck) October 8, 2020
"They are oppressing you for a paycheck. If you're still supporting law enforcement, you are supporting the people who are enforcing slavery on everyone else."

This is Brandon Caserta, a man who was arrested for a plot to kidnap Gov. Whitmer. He's a police hating anarchist. pic.twitter.com/3qGZpPpOJw

— Robby Starbuck (@robbystarbuck) October 8, 2020
Allow me to direct your attention to the big anarchist flag hanging in his background as he spouts off Anarchist views.
This guy sounds more like Antifa than a Proud Boy.
And just in case you hear they are white supremacists, another member of this group can put that notion to rest.
I was able to get video of another men arrested in the plot to kidnap Gov. Gretchen Whitmer. This guy, Pete Musico, says races shouldn't be fighting each other, we're all the same, government is the real enemy and he attacks police just like Brandon Caserta. Similar ideology. pic.twitter.com/eRQ77p4NMl

— Robby Starbuck (@robbystarbuck) October 8, 2020
So we have racially sensitive violent anarchists who hate cops and Trump.
But because they went after a Democrat governor, this is clearly Trump's fault.
I wonder where they got their motivation from. https://t.co/Sqw8k80SNY pic.twitter.com/mhdSMElz5F

— Rashida Tlaib (@RashidaTlaib) October 8, 2020
From NBC News:
Whitmer says Trump 'complicit' after feds reveal thwarted plot to kidnap her
"Hate groups heard the president's words not as a rebuke, but as a rallying cry," she said
Michigan Gov. Gretchen Whitmer said Thursday that President Donald Trump is "complicit" in fomenting extremists as she addressed a thwarted plot to kidnap her revealed earlier Thursday.
"Just last week, the president of the United States stood before the American people and refused to condemn white supremacists and hate groups like these two Michigan militia groups," she said, pointing to Trump's comments about the "Proud Boys" group during last week's presidential debate. "'Stand back and stand by,' he told them. Stand back and stand by."
"Hate groups heard the president's words not as a rebuke, but as a rallying cry," she said. "As a call to action. When our leaders speak, their words matter. They carry weight. When our leaders meet with, encourage, or fraternize with domestic terrorists, they legitimize their actions and they are complicit."
The evidence is just not there for that.
Of course, Trump shot back on Twitter:
Governor Whitmer of Michigan has done a terrible job. She locked down her state for everyone, except her husband's boating activities. The Federal Government provided tremendous help to the Great People of Michigan. My Justice Department and Federal Law Enforcement announced…

— Donald J. Trump (@realDonaldTrump) October 9, 2020
…today that they foiled a dangerous plot against the Governor of Michigan. Rather than say thank you, she calls me a White Supremacist—while Biden and Democrats refuse to condemn Antifa, Anarchists, Looters and Mobs that burn down Democrat run cities…

— Donald J. Trump (@realDonaldTrump) October 9, 2020
…I do not tolerate ANY extreme violence. Defending ALL Americans, even those who oppose and attack me, is what I will always do as your President! Governor Whitmer—open up your state, open up your schools, and open up your churches!

— Donald J. Trump (@realDonaldTrump) October 9, 2020
He's not wrong.
Which means that Trump is "inciting more violence" against Whitmer.
So let us recap:
Governor Whitmer imposes ridiculous and unpopular lockdown restrictions
Governor Whitmer imposes policies that increase COVID deaths in nursing homes among the most COVID vulnerable population in the state
Governor Whitmer's emergency powers are denied by the state supreme court
Governor Whitmer refuses to give up her power despite the court ruling
Trump-hating, anti-cop, anarchists try to kidnap Governor Whitmer
The FBI/DOJ stops it and arrests the anarchists
Governor Whitmer blames Trump for the plot against her by misquoting him/taking him out of context
Trump criticizes back
Yeah, I think absolute shit-show cluster-fuck is a good way to describe this whole situation.