Congresswoman Alexandria Ocasio-Cortez did an interview with Anderson Cooper on 60 Minutes in which she advocated for ending the use of fossil fuels in the next 12 years and going back to a 1960's tax structure.
First of all, eliminating fossil fuels.  I know that Arthur C. Clarke's First Law says: When a distinguished but elderly scientist states that something is possible, he is almost certainly right. When he states that something is impossible, he is very probably wrong.
My saving grace may be that I am neither elderly or distinguished, but eliminating fossil fuels in the next 12 years is impossible.  Arguably it would be possible if we accept a massive reduction in quality of life (and life itself) for the majority of Americans.
Roughly 63% of power comes from fossil fuels.  She wants to shut down and rebuild two-thirds of the US energy infrastructure in 12 years.
There are 253 million cars in the US and the average age is over 11 years old.  That second statistic is important, because the majority of working class people who need cars cannot afford new ones.  Her plan would require tens or hundreds of millions of Americans to give up having a vehicle.  Since subsidizing individual car purchases on that scale would be difficult, the difference would have to be made up with zero-emission public transportation.  That will require more infrastructure investment, which will all happen in big cities, leaving Americans outside of urban areas effectively without transportation.
Then there are all the trucks, commercial, and construction vehicles in the US, as well as commercial aviation.
I haven't even gotten into all the jobs associated with fossil fuels.  Not just the people in extraction and generation, but what about every mechanic in the country who is now obsolete since gasoline engines wouldn't be serviced or the gas station owners put out of work.  Consider every job associated with fossil fuels and we are talking about tens of millions of Americans suddenly without jobs with non transferable skills.
What would happen would be the rich in big coastal cities would have subsidized Teslas and high energy bills and the rest of America would live like a Mad Max movie.
And I'm only scratching the surface of this idea.  Clearly she had not thought of the ramifications of it at all.
But the fossil fuels issue wasn't the reason I started this post.  My bigger concern was the discussion of taxes and the fallout from that.
She said "your tax rate … from zero to $75,000 is may have been 10%" but then it goes up "on your ten millionth dollar sometimes you see tax rates as high as 60 or 70%."
Like everything else that this woman has said on the issue of taxes, she's wrong.
Some quick internet searching will show us what the 1961 tax rate was.  The lowest tax bracket was 20%, not 10 or 15%.  The highest tax bracket was 91% and started at $200,000 single or $400,000 married filing jointly.  It was 81% by $70,000.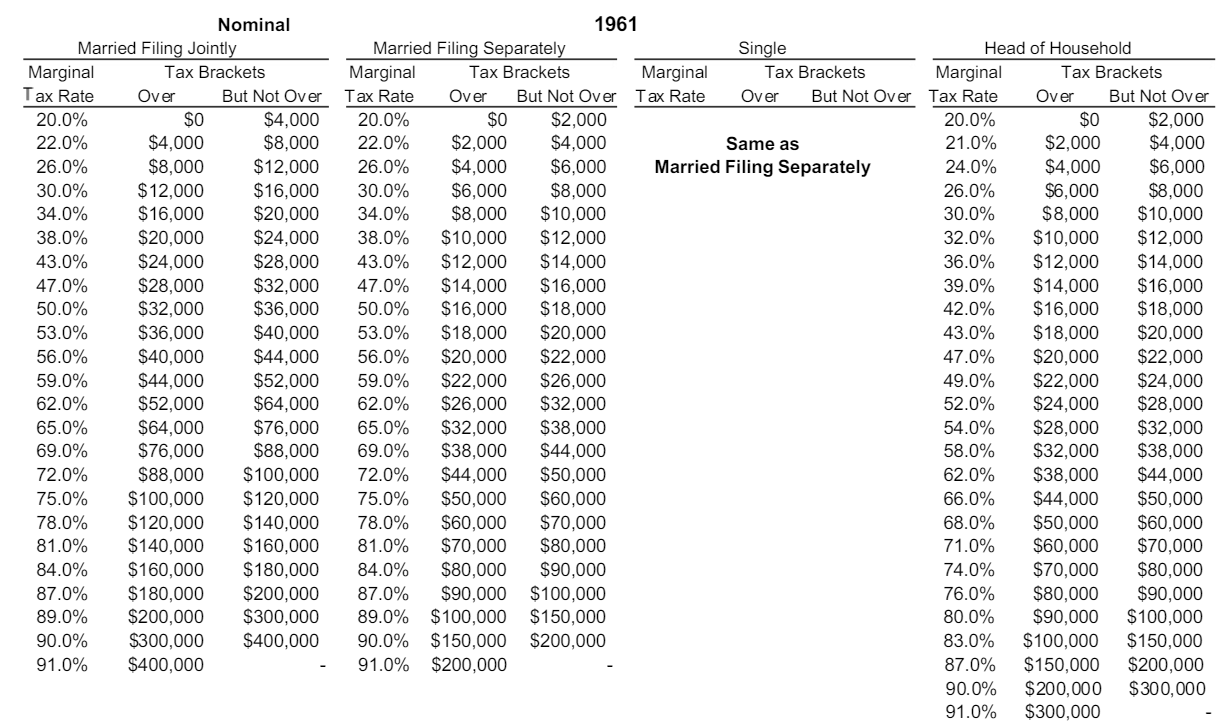 But, J.Kb, you haven't adjusted for inflation.  You are right, but if you do, that 91% kicks in at $1.6 million, not $10 million.  That maybe splitting hairs for some, but the Tax Foundation took the 1960's tax rates and adjusted them for inflation to 2013 numbers, so only a couple of percent difference to today.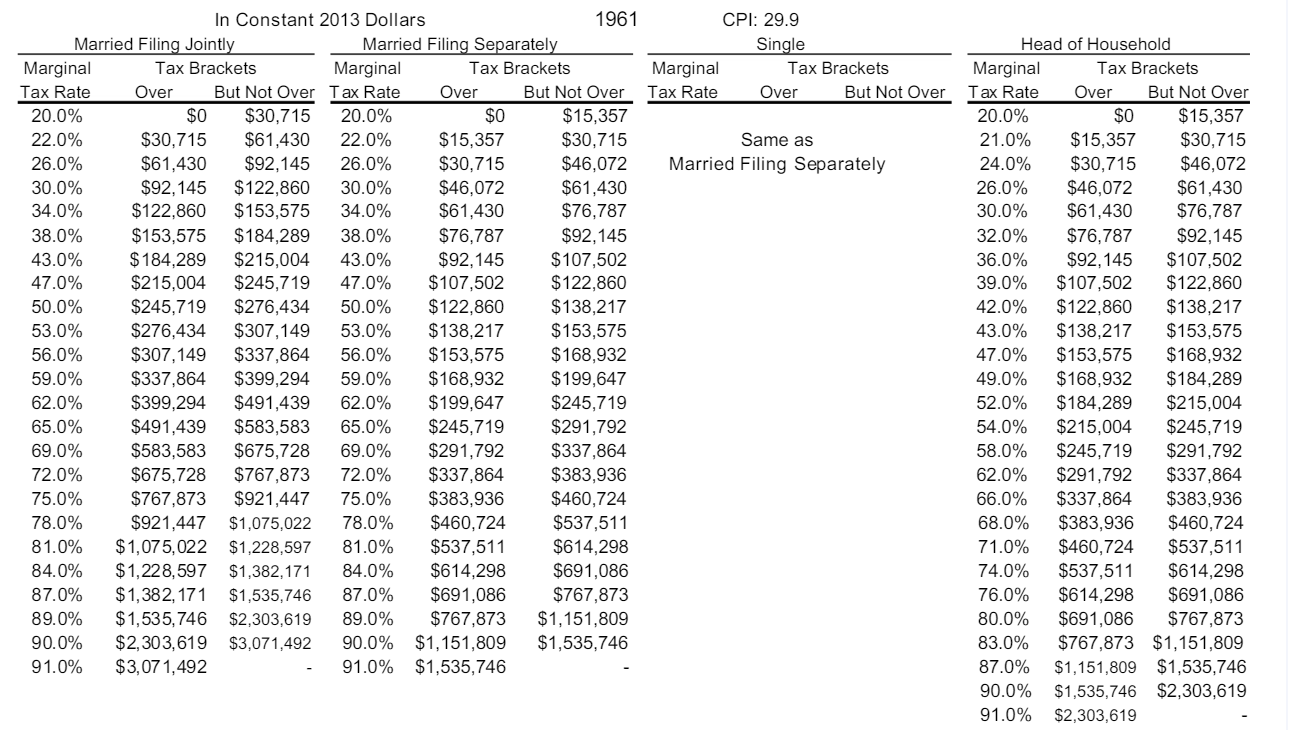 Compare that to the 2018 tax brackets.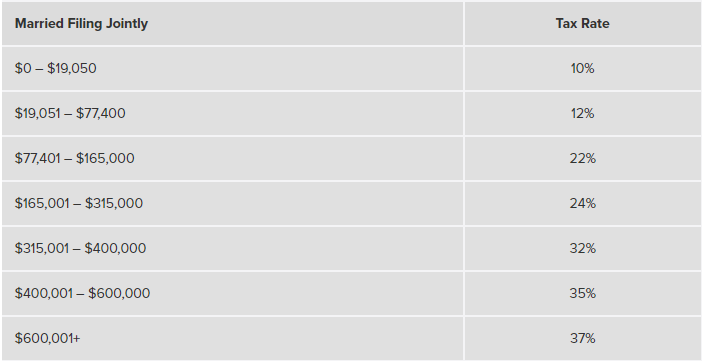 So if we applied the 1961 tax code to people today, the upper middle class gets screwed hard.
You can use this calculator to see what your effective tax rate is by year until 2012.  I put in my salary and checked it against my 2017 tax return.  I paid an effective tax rate of 25% last year, in 1961 I would have paid an effective tax rate of 37%.  That is 12% increase, and I am very far from a millionaire.
The mid career salary estimate for a engineering consultant is $250,000.  Some of the consultants I worked with cleared that, and then some.  This is on par with the salary for a senior associate in a law firm or a specialist in a doctors office.  At that income level, the effective tax rate by 1961 rates is $48%.  Add in my wife's salary and 51.6%.
So while she like to pretend that this return to more historic tax rates would only soak the millionaires, it wont.  It will be the wide swath of Americans who fall into the category of upper middle class professionals who will be seeing 10-20% increases in the tax rates they pay.
And it has to be that way.  If we go to Market Watch, the number of people who make in the tens of millions per year is only a few thousand people.  When we talk about millionaires, we talk about net worth, people who have accumulated more than a million dollars in value.  It is possible to be a millionaire and not make a million dollars per year, in fact, that represents most millionaires.  So such high tax rates would only apply to a small amount of people and would not net a significant amount of taxes (assuming they didn't hide the money in tax shelters first).
A higher tax on the broad base of the upper middle class is the only way to generate significantly more tax revenue.
For some people in Ocasio-Cortez's circle, her desires for tax increase are not nearly enough.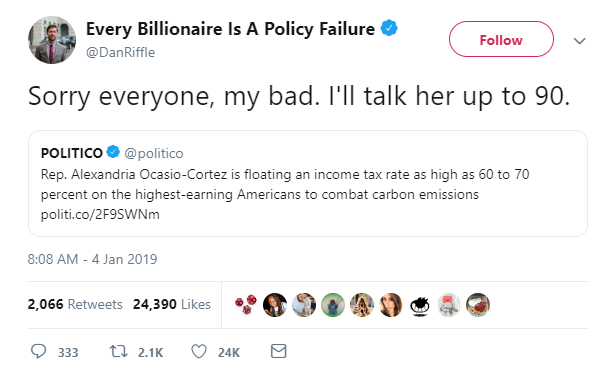 This guy's Twitter handle confuses me, I'm not sure how an individual earning a net worth of a billion dollars is a policy failure unless he believes in a policy of confiscatory taxation.
Congressman Steve Scalise weighed on this issue on Twitter.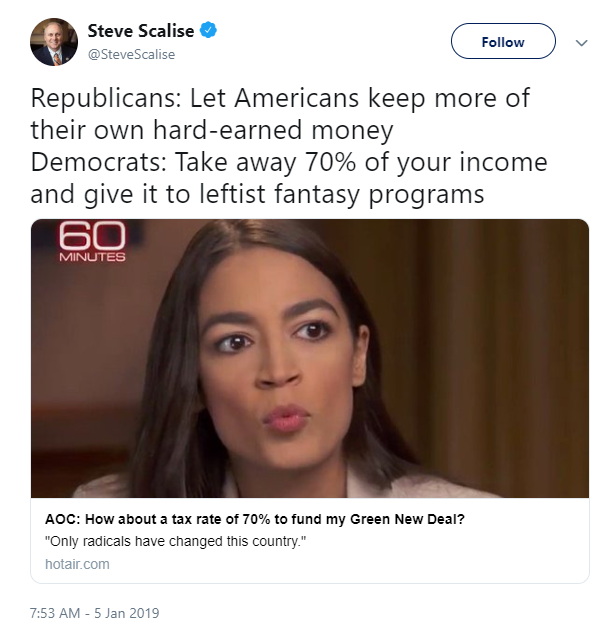 I don't think he realized just how ignorant and steeped in the politics of envy her followers are.  Most attacked him for confusing marginal and effective tax rates, but as I showed above, taking Ocasio-Cortez at her word of 1960's tax rates, the effective tax rate for America's professional middle class would significantly increase.  The idea that it will be 10% until $10 Million is horseshit.

This just sums up many of the comments on the thread.
"I won't ever make that kind of money so tax the shit out of the people who do."
Then there were these Tweets.


Again, yes, by 1960's tax rates, they will be coming for most American's weekly paycheck.
Even the economist Paul Krugman had to be a dumbass on this subject.
The Economics of Soaking the Rich
What does Alexandria Ocasio-Cortez know about tax policy? A lot.
The controversy of the moment involves AOC's advocacy of a tax rate of 70-80 percent on very high incomes, which is obviously crazy, right? I mean, who thinks that makes sense? Only ignorant people like … um, Peter Diamond, Nobel laureate in economics and arguably the world's leading expert on public finance. (Although Republicans blocked him from an appointment to the Federal Reserve Board with claims that he was unqualified. Really.) And it's a policy nobody has ever implemented, aside from … the United States, for 35 years after World War II — including the most successful period of economic growth in our history.
To listen to all these people, you would think that they honestly believe that the US economy was strong BECAUSE of high taxes on the rich.  If that were the case, why not go whole hog and tax 100% above $500,000.  Surely that would kick the economy into overdrive.
I've explained it before, why comparing today's economy to the post WWII economy doesn't make sense.  Post WWII, Europe was either rebuilding from being bombed flat or under the thumb of the Soviet Union.  China was in the middle of being starved to death under Mao's Great Leap Forward, and South East Asia was collapsing from post colonialism and the incursion of communism.  The US had an infrastructure build on WWII production, was untouched by war on US soil, and had no economic competition.
Don't believe me, the American Enterprise Institute says the same thing.
Did the the "91% or Bust" crowd forget about World War Two? A National Bureau of Economic Research study described the situation this way: "At the end of World War II, the United States was the dominant industrial producer in the world. With industrial capacity destroyed in Europe—except for Scandinavia—and in Japan and crippled in the United Kingdom, the United States produced approximately 60 percent of the world output of manufactures in 1950, and its GNP was 61 percent of the total of the present (1979) OECD countries. This was obviously a transitory situation."
We thrived in spite of high taxes, not because if them.
The world today is not the same as the 1960's.  Try a 91% or even 70% tax today and watch businesses and their owners flee overseas or undergo inversion.  There is no reason why the people facing such tax rates couldn't go to Tokyo, Seoul, Singapore, Hong Kong, Ireland, the British Virgin Islands, or any of a dozen other places that are as advanced as the United States and have much lower tax rates.
Krugman's defense of Ocasio-Cortez is the dumbest thing I've ever read.
So why not tax them at 100 percent? The answer is that this would eliminate any incentive to do whatever it is they do to earn that much money, which would hurt the economy. In other words, tax policy toward the rich should have nothing to do with the interests of the rich, per se, but should only be concerned with how incentive effects change the behavior of the rich, and how this affects the rest of the population.
But here's where competitive markets come in. In a perfectly competitive economy, with no monopoly power or other distortions — which is the kind of economy conservatives want us to believe we have — everyone gets paid his or her marginal product. That is, if you get paid $1000 an hour, it's because each extra hour you work adds $1000 worth to the economy's output.
In that case, however, why do we care how hard the rich work? If a rich man works an extra hour, adding $1000 to the economy, but gets paid $1000 for his efforts, the combined income of everyone else doesn't change, does it? Ah, but it does — because he pays taxes on that extra $1000. So the social benefit from getting high-income individuals to work a bit harder is the tax revenue generated by that extra effort — and conversely the cost of their working less is the reduction in the taxes they pay.
Has Krugman never heard of the term "diminishing return?"  If one hour nets me $1,000, two hours nets me $1,500, and three hours nets me $1,501.  I'm going to stop working after two hours because the reward to effort ratio decreases to the point where it's not worth the effort and I'd rather just have the time off.  When it comes to investment, such a tax would significantly reduce investment where the potential reward versus real risk doesn't make the risk worth it.
Or to put it a bit more succinctly, when taxing the rich, all we should care about is how much revenue we raise. The optimal tax rate on people with very high incomes is the rate that raises the maximum possible revenue.
And that's something we can estimate, given evidence on how responsive the pre-tax income of the wealthy actually is to tax rates. As I said, Diamond and Saez put the optimal rate at 73 percent, Romer at over 80 percent — which is consistent with what AOC said.
And how exactly do we keep that money in the country instead of it getting off-shored or hidden in tax shelters?
So AOC, far from showing her craziness, is fully in line with serious economic research. (I hear that she's been talking to some very good economists.) Her critics, on the other hand, do indeed have crazy policy ideas — and tax policy is at the heart of the crazy.
Like the guy that predicted Trump would crash the markets?
Which brings me back to AOC, and the constant effort to portray her as flaky and ignorant. Well, on the tax issue she's just saying what good economists say; and she definitely knows more economics than almost everyone in the G.O.P. caucus, not least because she doesn't "know" things that aren't true.
Flaky and ignorant is AOC's meteire.  She isn't some economic genius with a unique insight, she is parroting the same high tax polices that have done so much damage in Greece,  and has turned France in the weakest of the "big" economies in Europe.
This is the utter mendacity of the Left right now.
Ocasio-Cortez, Pelosi, Sanders, and their myriad of supporters love to say with such snide nastiness that only the super rich will be hit with high taxes and that the rest of us should have no sympathy for them because we'll never be that rich.
The reality is, such taxes rates will not generate a fraction of the revenue they promise, because of a combination of factors including, there are not that many people who actually earn salaries high enough to be taxed at those rates, most of those people will be able to hire accountants to hide the money from the government, the rest will find that it's preferable to expatriate their money.
The tax burden will trickle down to the professional middle class and successful small business owners, and they will get soaked.
The tax rates will still be loved by the envious classes that support Ocasio-Cortez, Sanders, et al, because deep down, it's not about tax revenue but revenge against the people they think did them wrong.
This is the ugliest, nastiest politics possible and it is a hit on social media.
We are careening towards disaster as half of America has found a popular champion of the same beliefs that doomed Venezuela.
We will all be eating road kill and half of America will be enraged that the other half of America has slightly fresher road kill.