The International Panel on Climate Change met in South Korea and came to the conclusion as to what will save the world.
If you don't want to watch the 90 minutes of video (it takes 15 minutes to get started), it can be summed up in these Tweets: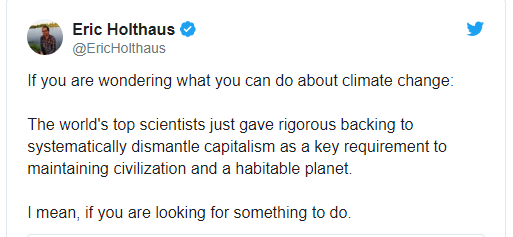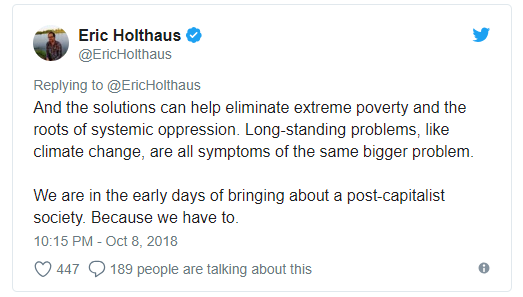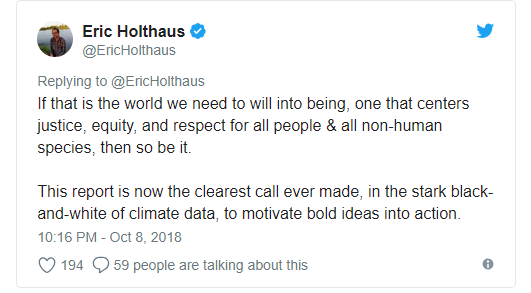 The secret to saving the planet from 1.5 degrees of warming is total global communism.
To be fair, there is some truth to that.  If you take the population reductions we saw in China and the Soviet Union and apply them to today's global population, we are looking at a manufactured famine in excess of two-billion people.  I have a feeling that reducing the worlds population by more than the combined total of Europe and Africa will reduce the total global consumption of natural resources.
Of course the mask the horrors of world communism by talking about social justice and equity.  We all know what the reality will be.
The climate scientists and their politician friends will become the new elite Politburo, living in luxury chalets in Geneva, while the rest of the world turns into North Korea, Venezuela, and Zimbabwe.
All to spare us…. I'm not sure what.
The IPCC was not the only group advocating for global communism yesterday.
Bernie Sanders was channeling his inner Lenin at Johns Hopkins.
This old fucking codger start out railing against "authoritarians" who use racial and demographic division to consolidate power.
But if you think he's attacking the Democrats and their principles of Social Justice, you forgot the word of the day: projection.
He wants to destroy the current system with its "corporate authoritarians" (somehow I don't think he's talking about the Leftists at Google or Facebook) and replace it with a new global order based on "global solidarity" and "mutual prosperity."
He uses climate change, clean air, clean water, and peace to justify what is an explicit call for global communism.
This is the guy that everyone says would have won the Presidency had the primary not been rigged for Hillary, and he's calling for global communism.
Boy howdy, did we dodge a bullet there.
This is the new Cold War.  The Soviet leaders put millions to death so that they could have power and live in luxury.  The new global communists will put billions to death so that they can have power and live in luxury.
The only thing that has changed is they've added CO2 to their justification.