This need to be understood as a hard and fast rule of American politics:
Whatever those on the Left complain about the Right doing, they themselves are doing worse.
I firmly believe that the only way the Left can maintain belief in their own moral superiority while engaging in the worst possible behavior is by embracing psychological projection.
A new poll from Pew Research as reported on by the Washington Examiner shows how dangerous this is going to get.
Pew: 91% Democrats see violence next in war of words
After a week that saw President Trump and his foes toss toxic words at each other, there is now a warning that the next phase could be "violence."
Nearly 8 of 10 Americans told the Pew Research Center that supporters for both sides could "act" on the politically charged rhetoric with violence. It was higher for Democrats, 91%, than Republicans, 61%.
Americans broadly agree that elected officials should avoid using heated language because it could encourage violence. Nearly three-quarters of Americans (73%) say this, while just a quarter believe that elected officials 'Should be able to use heated language to express themselves without worrying about whether some people may act on what they say,'" warned the center.
"While majorities in both parties say officials should avoid heated language, this view is more widely held among Democrats (83%) than Republicans (61%)," it added.
Trump is cited by a majority for stirring up the situation, but, like anything "Washington" today, there is partisan division.
Said Pew, "Democrats and Democratic-leaning independents overwhelmingly (84%) say Trump has changed political discourse for the worse.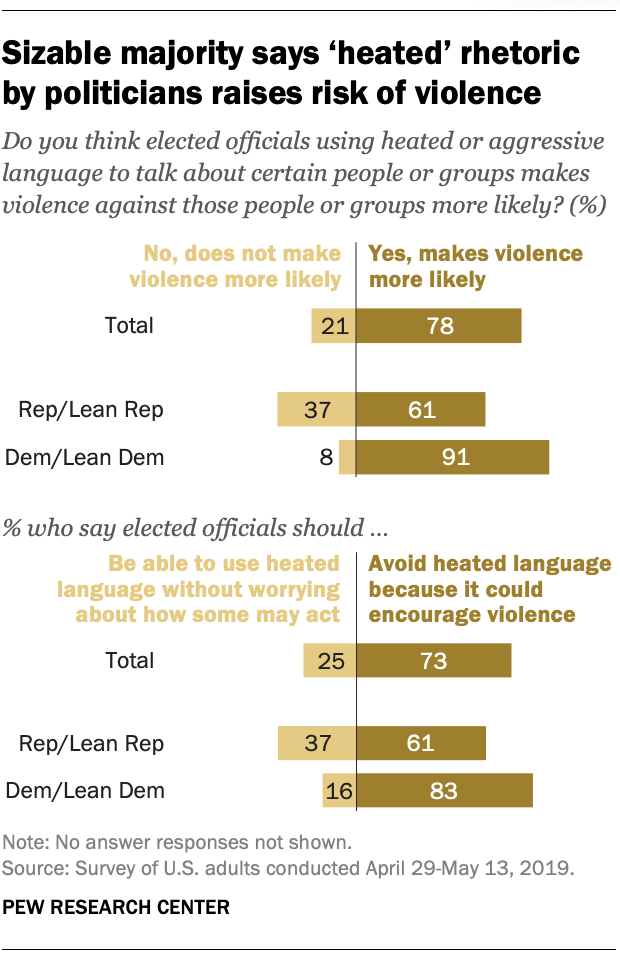 What I'm reading is that Democrats say that Trump's rhetoric is going to lead to more violence, which they imply means that more Right-wing Trump supporters will engage in violence spurred on by Trump.
Of course, we have seen virtually violence to that effect.
The White Supremacists nut-job who shot up the Tree of Life Synagogue did it, not because Trump was pushing antisemitism but because he thought Trump was too friendly with the Jews.
It was a member of Antifa that tried to firebomb and ICE facility using the same rhetoric as de facto Speaker of the House AOC.
So what this is, is complete projection.
It is the rhetoric of the far Left and the Far Left thugs aligned with Antifa, the Democratic Socialists, and others who are going to ramp up the violence more and more for the next election – and beyond if Trump wins again.
91% of Democrats are sure of it.
This is very bad for us.