We've had some pretty shitty weather in Alabama these last couple of weeks.  The Tennessee Valley area of north Alabama has seen some flooding.  We've had some road closures up here because of that last week.
Last Sunday, several tornado, including an FE4 tornado went through Lee County, Alabama.  It killed 23 people and injured 77 others.  The Governor of Alabama has put the area under a state of emergency and flags have been flying at half mast all week.
The storm front that spawned the FE4 that hit Lee County wasn't a typical supercell.  This tornado was about as unpredictable for a tornado of that strength as you can get.
The worst damage happened in the small town of Beauregard, a rural community outside of Auburn.  To give you an idea, Lee County only has a population of 140,000, and about a third of that is associated with Auburn University.
The tornado was devastating.  Like I said above, 23 people were killed, which is terrible, but the personal stories are so much worse.  Ten of the victims were from one family.
Mary Louise Jones, 83, and Jimmy Lee Jones, 89 — were killed when devastating tornadoes cut through eastern Alabama on Sunday afternoon.
She found her father's body. Emergency personnel later told her about her mother's death.
"Just the image — I will never get out of my head. They really didn't want me to see the picture, but I had to identify the body."
But the losses did not stop there. A total of 10 members of Jones' extended family were killed, including a brother, a cousin, a niece and a second cousin of her mother's.
Three of the tornado victims were children, with the youngest being only six years old.
AL.com put out drone footage of Beauregard, showing just how much damage was done.  The tornado wiped the land clear in some places.
This is the coverage of the damage and recovery from ABC News.
This was a terrible blow to the state.
President Donald Trump visited the survivors in Beauregard.
Keep in mind that the media castigated President George HW Bush for his response to Hurricane Andrew and then castigated his son, President George W Bush, for his response to Hurricane Katrina.
The President visiting a community devastated by a natural disaster has become an expected part of the Presidential duties.
The president and first lady Melania Trump viewed the damage caused by the storm as they flew aboard Marine One. The president also met victims in Opelika, Alabama, and received a briefing from the Lee County Emergency Management Agency.
As his motorcade wound through the county, Trump passed through entire neighborhoods that were destroyed, passing by empty lots with broken pieces of metal, wood and what appeared to be scattered clothing.
Trump, alongside Alabama Gov. Kay Ivey, surveyed the destruction wreaked across Beauregard on foot before meeting with victims' families.
"I saw this. And it's hard to believe," Trump said. "You saw things that you wouldn't believe."
At one stop, Trump visited with the family of Sheila Creech and Marshall Lynn Grimes, who were killed in the storm. Trump hugged their survivors, and one member of the family showed him Grimes's motorcycle vest and Bible.
At Providence Baptist Church, Trump met privately with nearly a dozen families who were victims of the storm. Afterward, he thanked dozens of community volunteers in the church auditorium, which was filled with clothes, toiletries, diapers and school backpacks. Trump signed several hats and Bibles, including one belonging to a 12-year-old boy.
Emergency crews are doing an "A-plus job," Trump told the crowd, adding that the Federal Emergency Management Agency will remain onsite as long as it's needed.
Again, some facts to keep in mind.  This is small town, rural Alabama.  The local church is the heart of the community.  It is serving as the emergency shelter for the people who have lost their homes.  It is where these people are being fed.  It is where resources are being collected.
For many of the people there, all they have left is what they have at with them at the church.  The bible that they got from the community relief center is the only thing they have to get signed.
That part about signing bibles drove the Left insane.  This is how some responded on Twitter.
This is some shit-ass "comedy" writer with The New Yorker: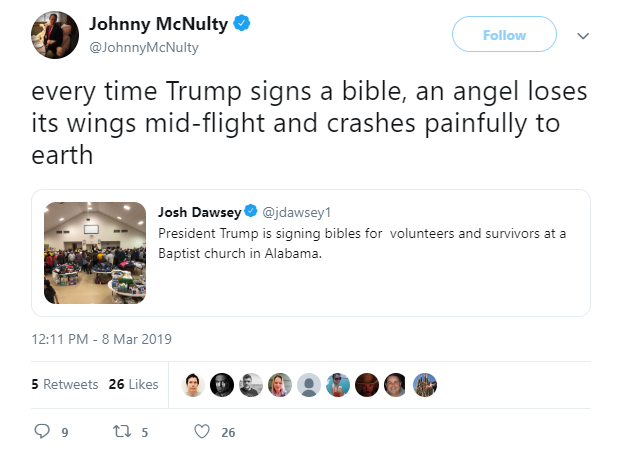 This is the Chief Political Analysis for ABC News:
This is Obama's Ebola Czar and counsel for Clinton, Gore, and Obama.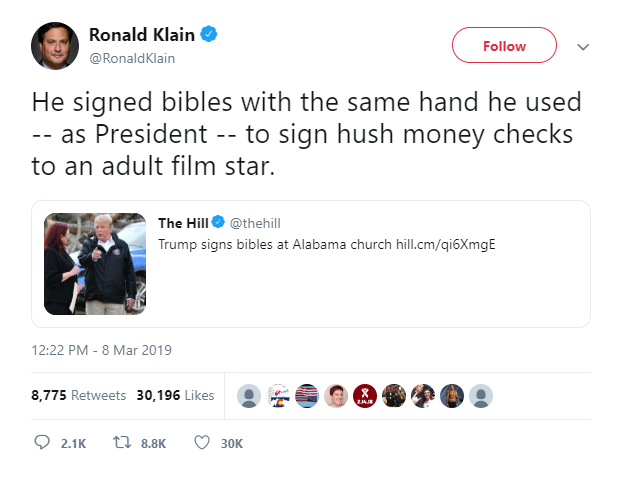 This is the write and producer for Married… with Children, Dream On, Star Trek: Voyager, Dharma & Greg, Two and a Half Men and Gilmore Girls, and The Big Bang Theory.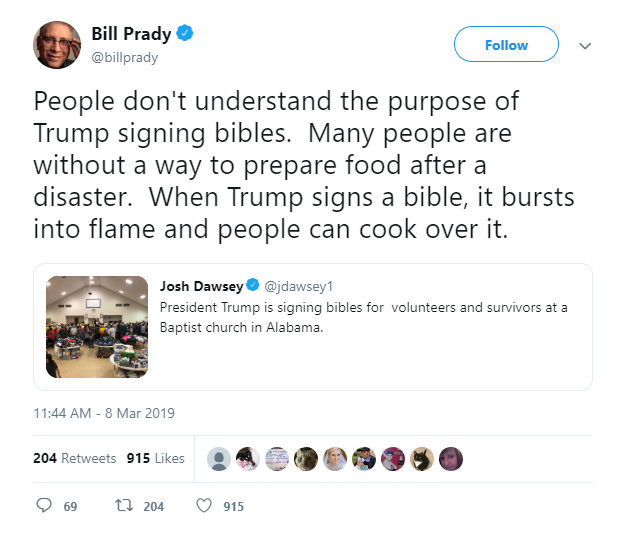 This is nothing but abject contempt and hatred for Trump and the people of Lee County, Alabama who are suffering.
I'm not sure which is worse, that these people have no empathy for people suffering in Red States or that these people are movers and shakers, and people of political and cultural significance, i.e., people who shape the pop culture?
What it does make be think, is that next wildfire season in California, when the homes of the Hollywood glitterati are threatened, the Alabama Nation Guard should dutifully respond and spray their mansions with kerosene instead of water.