You may have seen the paranoia rocket flying across you feed in the last 24 hours.  OK, what is paranoia for some is seen as possible target practice by others, but I digress.
This is a copy of the job offering, Apparently the original is no longer available.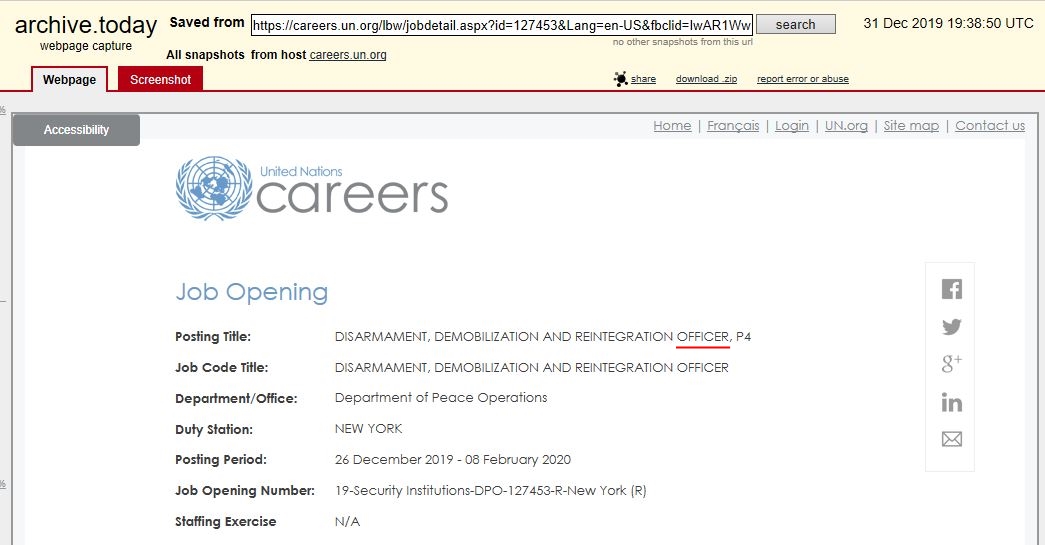 Now, I don't like most the UN one bit, but I am not going to feed the BS conspiracy machine by copy/pasting the original blog post which has one extra letter that changes the meaning of the whole job offering and its alleged implications with the Virginia Civil Resistance.
the job offering is for an OFFICER, not for OFFICERS.
This position is located in the Disarmament, Demobilization and Reintegration (DDR) Section of the Office of Rule of Law and Security Institutions (OROLSI), within the Department of Peacekeeping Operations (DPKO) in New York. New York is classified as a hardship "H" duty station and family duty station. The incumbent reports to and is under the overall supervision of the DDR Section Chief.
Responsibilities
Within delegated authority, the Disarmament, Demobilization and Reintegration Officer will be responsible for the following duties:
(Bolds are mine)
This is going to be one bureaucratic guy by his lonesome in an office in the UN Building. The requirements are so narrowly targeted and the posting disappeared so fast, I believe this was already targeted for one individual and not for the general public. I do find funny that they consider New York City as a hardship post. Probably because they won't have access to a stable of underage kidnaped hookers for their sexual pleasures. I mean, New York suck, but it is not s shithole like Guadalajara.  Or maybe it is an excuse to leave the wife and kids at home and do a bachelor life paid by the UN.
So, as much as I would like to see a collection of damaged UN helmets offered in EBay, I doubt that we are gonna see troop carrier waving the UN Flag anytime soon through the streets of Charlottesville.