FirstSpear issued a statement: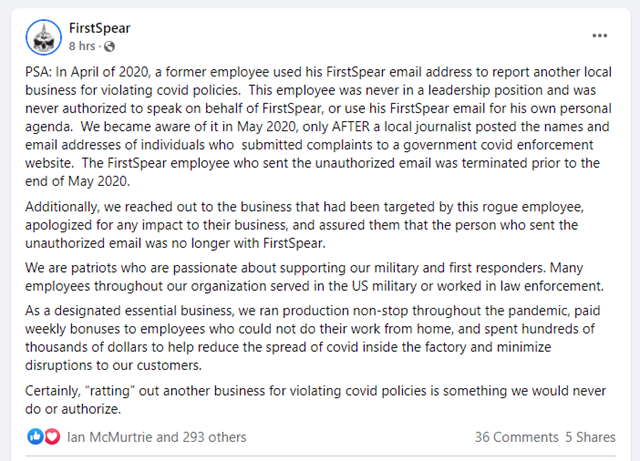 PSA: In April of 2020, a former employee used his FirstSpear email address to report another local business for violating covid policies. This employee was never in a leadership position and was never authorized to speak on behalf of FirstSpear, or use his FirstSpear email for his own personal agenda. We became aware of it in May 2020, only AFTER a local journalist posted the names and email addresses of individuals who submitted complaints to a government covid enforcement website. The FirstSpear employee who sent the unauthorized email was terminated prior to the end of May 2020.
Additionally, we reached out to the business that had been targeted by this rogue employee, apologized for any impact to their business, and assured them that the person who sent the unauthorized email was no longer with FirstSpear.
We are patriots who are passionate about supporting our military and first responders. Many employees throughout our organization served in the US military or worked in law enforcement.
As a designated essential business, we ran production non-stop throughout the pandemic, paid weekly bonuses to employees who could not do their work from home, and spent hundreds of thousands of dollars to help reduce the spread of covid inside the factory and minimize disruptions to our customers.
Certainly, "ratting" out another business for violating covid policies is something we would never do or authorize.
The intrepid Mr. Floof has confirmed this:
I just talked to Jason at Maelstrom Brazilian Jiu-Jitsu and verified everything @1stspear said was 100% true.
A rouge employee used the company name to file a complaint they never authorized.
I'm going to call in the AM to do what I can to help @1stspear.

— NevilleTheCat (@FearTheFloof) March 6, 2022
I will retract my fatwa against FirstSpear.
I will say that business should be the first to sort through that list and blackball those people from employment.
In this case, the employee, by using his work email, did damage to his employer.
I apologize for my contribution to that damage before all information became available.
But reading those emails myself, many of those employees were ratting out their own bosses.  Clearly with the intention of getting their essential employer shut down so they could have a COVID stimulus paid vacation.
I'm big enough to admit that I made a mistake.
I would suggest to FirstSpear and other business, get out in front of shit like this and announce your firing of COVID Snitches before it harms your business.
I meant what I said, I do not want to return to normal with these people who shut us down and forced us to mask for two years.
I want vengeance.