Libs of TikTok has been an invaluable resource for videos and stories of groomer teachers.
The content produced has been noticed and the account boosted by Joe Rogan and Tucker Carlson.
This has caused Libs of TikTok to catch the ire of the Left.
The Washington Post, a paper owned by the second wealthiest human on the planet, sent one of its most supine and diabolical shit rakers to destroy the person behind the account.
.@LibsofTikTok has become a powerful cross-platform social media influencer, spreading anti-LGBTQ+ sentiment and fueling the right wing media's outrage machine.

I wrote abt the account, the woman behind it, and why it matters 🧵https://t.co/p5dNT7Li1B

— Taylor Lorenz (@TaylorLorenz) April 19, 2022
This is how far they went.
Hi @TaylorLorenz! Which of my relatives did you enjoy harassing the most at their homes yesterday? pic.twitter.com/QehkBSgcmG

— Libs of Tik Tok (@libsoftiktok) April 19, 2022
The Washington Post article published the account holders name and at one point had an embedded hyperlink to her real estate license, her employer, their address, etc.
appears WaPo has since removed the hyperlink to the real estate license (pic one is the cached version; pic 2 is current online version).

but how the link to the license made it into the final draft that published is … curious. pic.twitter.com/ipOefW2pFp

— Becket Adams (@BecketAdams) April 19, 2022
The Washington Post also felt it was in the public interest to point out that the account holder is an Orthodox Jew.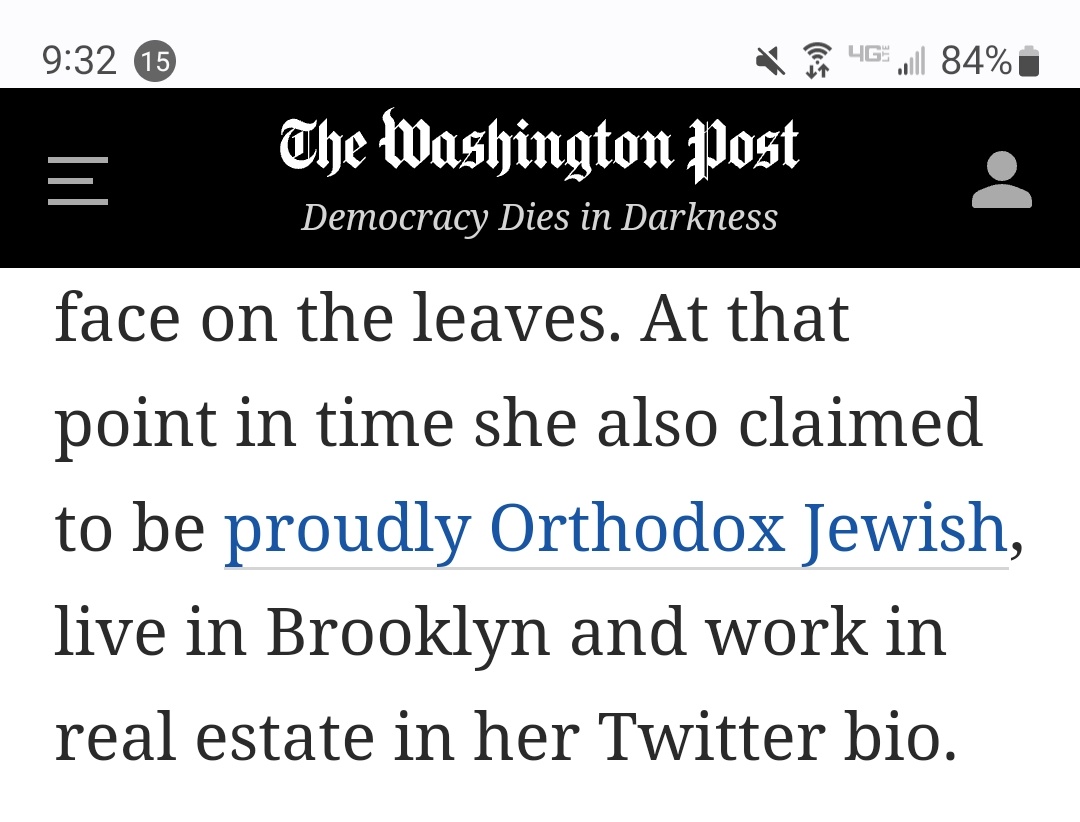 On the one hand, you have a person with an anonymous Twitter account who reposts videos of radical Leftists outing themselves.
On the other, you have a reporter from one of the most influential media outlets in the country naming this person, posting links to her business license and employer, talking to her family members, and telling the Left that she's a Right Wing Jew.
The same paper that helped bury the Hunter Biden laptop story and attacked the NY Post for publishing it.
Scratch a Leftist and find an antisemite.
This is intended to do more than intimate, this is intended to destroy the personal life of someone who stands against them, and they will pull out every stop, including Jew-hatred, to do that.
The true nature of the Left is being exposed.  It started with at-home schooling from the pandemic.  As more and more moderate normies see what is going on, the Left loses support.
The Left is scrambling to regain the narrative.
That's why they are attacking Musk for wanting to restore free speech to Twitter.
That's why they are trying to stop us from calling them "groomers."
And that is why they are trying to destroy anonymous Right Wing accounts like Libs of TikTok.
It is open war on anyone who exposes the truth behind the narrative.