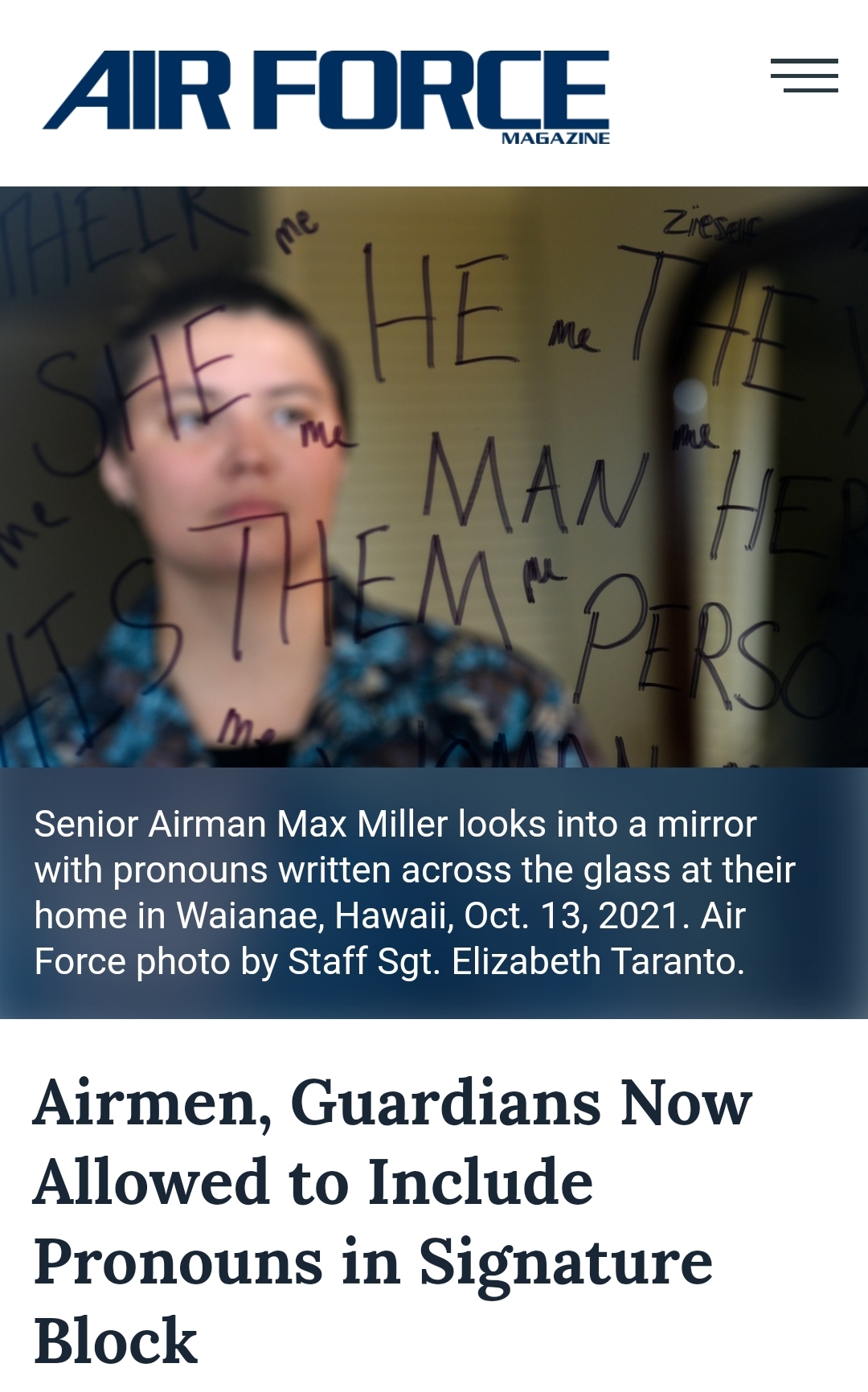 From Air Force Magazine:
Airmen and Guardians are now allowed to include their pronouns in the signature block of emails, memoranda, letters, and papers.
The inclusion of pronouns, such as he/him, she/her, and they/them, in signature blocks has become an increasingly common practice in the business world and helps to ensure that transgender and nonbinary individuals are identified as they desire. It also helps individuals with gender-neutral names.
"An inclusive force is a mission-ready force, and I'm thankful to the LGBTQ Initiatives Team for helping us realize this opportunity to be a more inclusive force," Undersecretary of the Air Force Gina Ortiz Jones said in a statement.
The effort to introduce this change in the official writing guide was started by Master Sgt. Jamie Hash, the other LIT Transgender Policy Team co-lead, as part of her base's Diversity and Inclusion Committee, the Air Force said.
The Air Force officially stood up its department-wide Office of Diversity and Inclusion in January 2021.
Since then, the Air Force has updated standards such as those involving women's hair in an effort to better address differences in hair texture and density, and Jones became the first openly lesbian and second member of the LGBTQ community to serve as undersecretary. Since then, she has championed several diversity initiatives within the department.
Kelly Johnson didn't need his pronouns in his signature when he ran Skunk Works and designed half the fucking aircraft for the Air Force.
Today's Air Force has an Office of Diversity Equity and Inclusion that is putting pronouns in bios.
We learned in WWII, Korea, and again in Vietnam the importance of air combat superiority.
That became Air Force doctrine.
We could use tactical air dominance to secure victory over a larger enrmy ground force.
We're going to give that up for diversity, equity  inclusion, and preferred pronouns.
It has been absolutely clear that everything Woke goes to shit.
It goes to shit because it doesn't foster unity through an esprit de corps but causes constant infighting and grievance mongering.
Once you go down the path of DE&I and pronouns in your bio/signature, you've drunk enough of the Woke Kool-aid that your downfall is inevitable.