When a teenager understands federal gun policy more than the NRA…

🧡 @MarcelMcClinton pic.twitter.com/3OEuCYNMSt

— David Hogg 🌻 (@davidhogg111) September 10, 2018
Here are the images: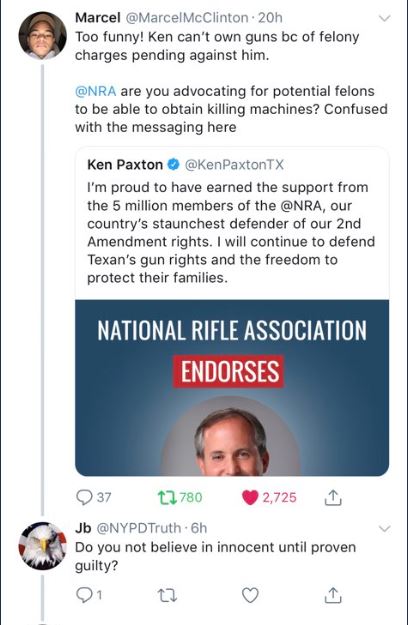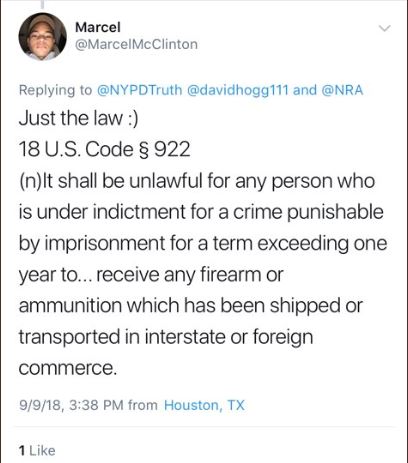 I don't know anything about Ken Paxton.  A quick Google search says that he's been indicted for fraud.
While Marcel here is correct that an indictment does stop you from being able to receive a gun from an FFL, he didn't check the full definition of a prohibited person from the ATF.
The Gun Control Act (GCA), codified at 18 U.S.C. § 922(g), makes it unlawful for certain categories of persons to ship, transport, receive, or possess firearms or ammunition, to include any person:
convicted in any court of a crime punishable by imprisonment for a term exceeding one year;
who is a fugitive from justice;
who is an unlawful user of or addicted to any controlled substance (as defined in section 102 of the Controlled Substances Act, codified at 21 U.S.C. § 802);
who has been adjudicated as a mental defective or has been committed to any mental institution;
who is an illegal alien;
who has been discharged from the Armed Forces under dishonorable conditions;
who has renounced his or her United States citizenship;
who is subject to a court order restraining the person from harassing, stalking, or threatening an intimate partner or child of the intimate partner; or
who has been convicted of a misdemeanor crime of domestic violence.
The GCA at 18 U.S.C. § 992(n) also makes it unlawful for any person under indictment for a crime punishable by imprisonment for a term exceeding one year to ship, transport, or receive firearms or ammunition.
Being indicted for a felony does not make someone a prohibited person.  Paxton can continue, by Federal law, to own any guns he currently has.  He just can't buy new ones.
Paxton cannot be stripped of of civil rights to own a gun without a conviction.  He is innocent until proven guilty and and indictment is not a conviction.
Hogg thought he was dunking on the NRA but really he was showing, again, how little he understands gun law and the fine details that are so important in its applications.