Remember that girl at Kent State who was savaged online for her campus carry?
The anti-gun left is at it again with her, and worse.
This weekend, a leftist took photos of me at a restaurant, tweeted them out saying she'd punch me in the head if someone sent her $50, told her friends I should die, & told the manager to kill himself. This is EXACTLY why I carry. #2Ahttps://t.co/HXltSxrg5Z

— Kaitlin Bennett (@KaitMarieox) July 2, 2018
After they left, the waitress told Bennett that the women were in fact taking photos of her. A day later, tweets surfaced from one of the girls in the group who snapped photos. Amber Davis of Ravenna, Ohio posted photos of Bennett to her Twitter with the caption, "Is this the gun slinging slasher from KSU someone help." A follow-up tweet from Davis reads, "Update, it fucking is,,, someone PayPal me $50 and I'll punch her in the head."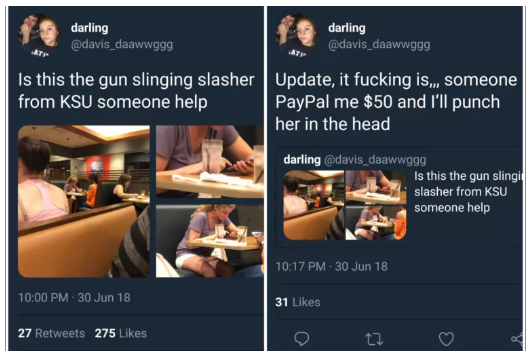 Bennett told Liberty Hangout that "Just minutes after they walked into the restaurant, they were already threatening me on social media while sitting just feet away from me. I texted my boyfriend from the restaurant letting him know these girls were harassing me, and he said he hoped I had my firearm on me. Little did I know at the time that not only was she taking pictures of me, but was threatening to assault me and saying she wants me to die."
Fifty bucks is small change.  She should ask for at least enough to cover the cost of bail for assault, if not a funeral for punching someone who is known for carrying concealed.
"There is a girl who talks about on like carrying a gun, how about I attack her?"
You'd think people couldn't be that stupid but they are.
Online stalking, harassing people in public, social media hate mobs, this is where 2018 is going.
Someone got very close to getting shot for starting shit over an ideological difference.
I don't know how many times I will have to say it, but I feel it's not going to stop anytime soon:
This shit is getting out of hand it will end badly.