Nantes is a town in France. If you were taught Western World History, you should have a faint memory of the place when it comes to the fight between the French and the Britons way-way back then.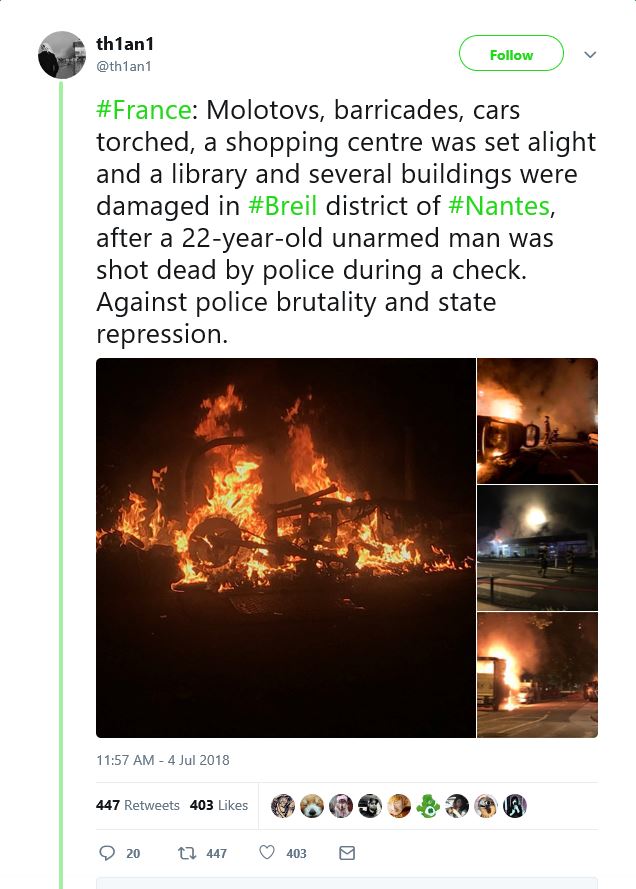 On July 4th during a stop,  police tried to detain 20-year-old Aboubakar Fofana who apparently "unarmed" tried to run over a cop who proceeded to shoot him dead.  That event was followed by four nights of "unrest" or what we call over this side of the pond "rioting, arson and looting."
Four days of burning cars and businesses has barely made a blip in Europe and pretty much zilch here. I am going on a limb that the lack of coverage has everything to do with the fact that the "yute" had an Arabic name and the popular response has been so unreasonable than rather than daring to criticize the actions of the migrant populace who has already pulled shit like this before in the same place, the Media rather ignore it in the hope it does down and goes away.  What is ignoring widespread arson compared with being accused of racists? Let it burn.
Then again is France where certain groups feel it is OK to shoot the shit out of publications if they feel Islam has been insulted.