Still mulling a bit about this one: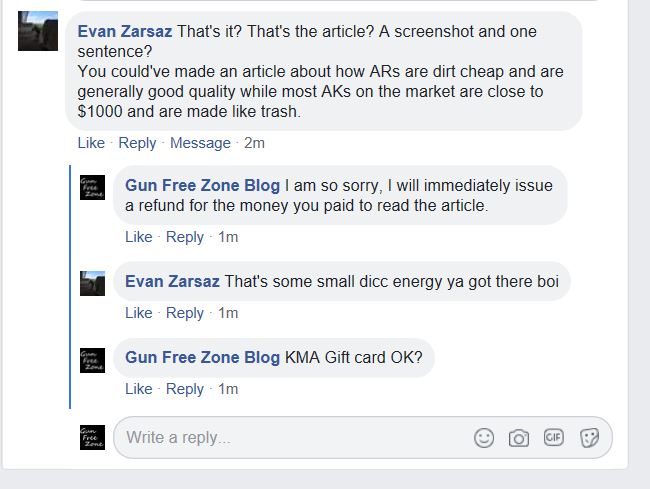 I never made claim to be an extensive or even good writer. In fact from day one I have called myself a pamphleteer, nothing else. But I also have an enormous amount of respect for my readers because if there is something I have learned through the years and specially since I got into guns, is that people do not need to be treated like idiots when I write something. Do I need to go into a 5,000 word essay about the AK v AR? Nope, that would be trying to compare a 1938 VW Beetle with a 1965 Ford Mustang GT 350 and then tout the superiority of the AR as if they were equals and that was not the point I was trying to make.
Most of the readers understood (without having to pull out the crayon caddy like Evan wanted) that not 10 years ago, you could not get an AR15 for less than $700 but AKs could be found for around $350. Many people could not afford to shed a lot of money and went with AKs for SHTF weapons, including myself. Nobody back then would have believed that we would be in a time where an AR became affordable enough to have by most people. Hell, you can buy 30 round magazines for 7 bucks rather than the $50 and more if you survived the AWB decade.
And here is the kick: the young readers that might no be aware of the shift, are smart enough to either ask or find out on their own. Again, they don't need a keyboard snob trying to impart his Gun Forum wisdom to the uncouth masses.
Again, I don't write to make you feel good, I don't write to get hits (I know, I took a hit on visits with my electoral positions) or to massage your fragile egos. I write because I want to, on the subjects I want to and the length I want to. I use memes, screen caps and stories of short length. If you want a cascade of gun-related words, you can always visit TTAG.
Oh dear, I am about to lose more readers.