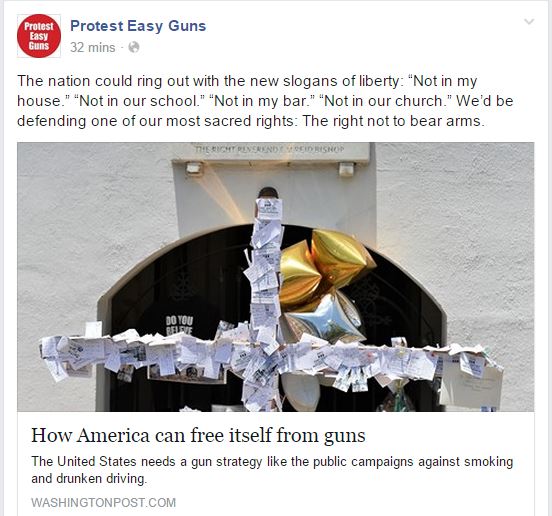 "Those of us who want to live, shop, go to school and worship in gun-free spaces also have rights," Molyneux said. "In what way is 'freedom' advanced by telling the owner of a bar or restaurant they cannot ban handguns in their own place of business, as many states now do? Today, it is the NRA that is the enemy of freedom, by seeking to impose its values on everyone else.
"The nation could ring out with the new slogans of liberty: "Not in my house." "Not in our school." "Not in my bar." "Not in our church." We'd be defending one of our most sacred rights: The right not to bear arms.
Source: How America can free itself from guns – The Washington Post
Call me silly, but Charleston's Emanuel African Methodist Episcopal church was a "gun-free space" same as Columbine and Sandy Hook. And nobody is trying to stop you or punish you for not bearing arms, you can do that already without any problems…. Unless you are in a "gun-free space" and having visit by a deranged bipedal predator looking for victims. Other than that, you are golden and feel free to engage in that right.
The stupid….it hurts.