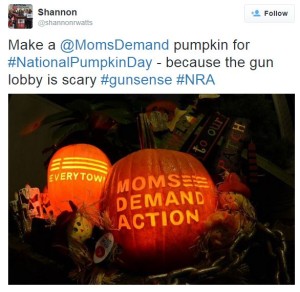 I caught this on the Book of Face.
I love this idea.  I really do.  Nothing irritates people like than when somebody takes a perfectly fun holiday and ruins it with politics.
Nobody likes the cousin who goes on and on about the plight of industrialized farm turkeys and why he/she's a vegan at Thanksgiving.
Halloween is about two things, scaring kids and CANDY.  This just shows everybody that Shannon Watts and her crew are a bunch of joyless scolds who want to ruin everybody else's fun.
This is more of a downer than Trick or Treating for UNICEF.
The NRA should respond by handing out full bars.
I can't wait until Shannon figures out how to ruin Christmas.