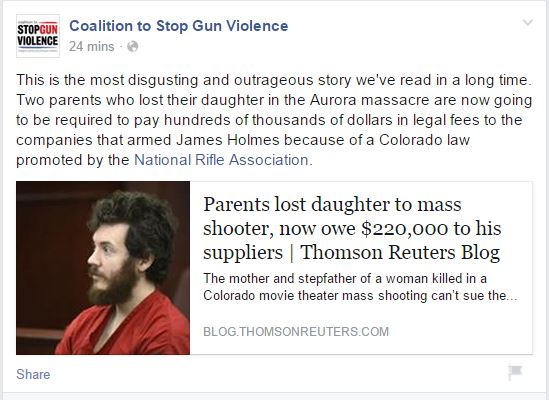 Even if the defendants did not have immunity under the federal or state statutes, the Phillipses never showed any of the online stores knew or reasonably should have known about Holmes' potential criminal acts or misuse, the judge said.

Additionally, the plaintiffs never alleged any individual defendant had knowledge of Holmes' other online purchases or the firearms he bought offline, the judge said.

"There can be no question that Holmes's deliberate, premeditated criminal acts were the predominant cause of plaintiffs' daughter's death," Judge Matsch wrote, but "[n]either the Web nor the face-to-face sales of ammunition and other products to Holmes can plausibly constitute a substantial factor causing the deaths and injuries in this theater shooting."
via Parents lost daughter to mass shooter, now owe $220,000 to his suppliers | Thomson Reuters Blog.
These type of lawsuits have not progressed for a long while now. But they still pop now and then because the silly idea that they can wear out the target on both effort and money…. that is if you have the money to initially spend and you don't get nailed with having to pay the costs of the defendant in case you lose, which is what happened here.
Sandy and Lonnie Phillips decided to be the faces on the lawsuit brought forth by the Brady Campaign and now are stuck with almost a quarter of a million dollars' worth of payments to make against Lucky Gunner and Sportsman Guide. The question that I ask is, Weren't they told of the very likely consequences of this lawsuit? Or if they did,, did the lawyers from the Brady Campaign downplayed the danger of losing and having to pay for legal fees and costs under Colorado law?
I don't know if there are grounds for legal malpractice, but if the Brady Campaign washes its hands from this, they surely are committing moral malpractice in mu humble opinion: they cannot just entice somebody to be the face of a lawsuit and then go "Ooops! My bad" when it collapses and there is a nasty bite back.