From the Nainamo daily News, we get this hard-hitting piece of journalism:
Nanaimo RCMP discover Soviet assault weapons
Routine investigation of shed near Nanaimo home uncovers pair of SKS Tula semi-automatic rifles.
Two Soviet-era SKS Tula semi-automatic assault rifles, a scooter valued at $3,000, and an estimated $15,000 worth of bicycles were hidden in the shed, along with a quantity of heroin, cocaine, methamphetamine and marijuana. 
OK, I get that it was the lair were bad guys dropped their stuff and a bit of sensationalism sells, but for the love of Pete, I am sure that Canada has access to Google. Will a quick search about SKS rifles for accuracy's sake would be so painful?
"If they fall into the wrong hands, now they've got a semi-automatic weapon," said Sgt. Sheryl Armstrong of the Nanaimo RCMP.
"Or if some young child finds them and thinks they're a toy, and there's ammunition, look out."
Guns capable of firing one bullet after another have been used in mass shootings.
"Any time you have something capable of firing more than one bullet (in rapid succession), it's concerning," Armstrong said.
"If you can fire off (multiple) shots just like that, it has the capability of harming more individuals than a single shot."

Well, the Sherlock Holmes of British Columbia has spoken.  OK, Mr. Holmes does not deserve to be associated with Sgt. Armstrong who probably got her rank due to Politically Correct means and not because she is a master cop or even a Keystone one.  And I bet she is issued a single shot muzzle-loader dueling pistol for her patrols from the office to the ladies room and then on to Tim Hortons.
But that is not all. Apparently Darrell Bellaart, the "journalist" that probably managed to stop sucking Lord Calvert out of a straw to write this "article" was asked if he could make a correction on the obvious firearm mistakes.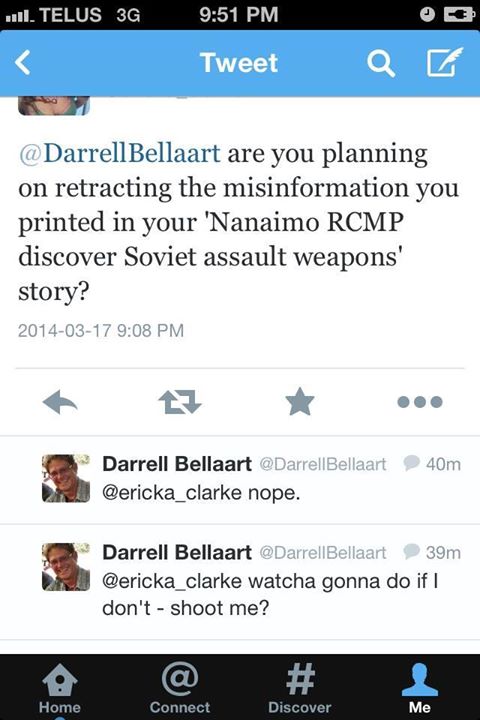 His answer tells us a lot: Journalists are as dumb past Nord des Lignes than down here.
And yes, I ran out of Canadian references. I'll save Sgt. Preston.
Hat tip to Bryan B.