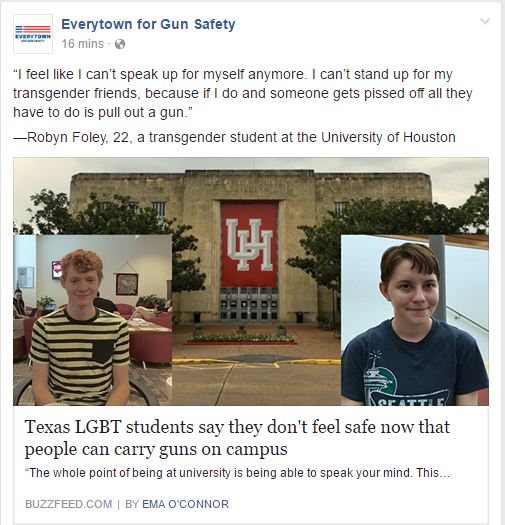 HOUSTON — Many LGBT students at the University of Houston say they feel like they can no longer express themselves safely now that a law allowing people to carry concealed weapons on campus is in effect and classes have begun.

"I feel like I can't speak up for myself anymore," Robyn Foley, 22, a transgender and intersex student who majors in anthropology, told BuzzFeed News. "I can't correct someone on my pronouns" — Robyn's pronoun is "they" — "I can't stand up for my transgender friends, because if I do and someone gets pissed off all they have to do is pull out a gun."

Texas LGBT Students Say They Don't Feel Safe Now That People Can Carry Guns On Campus – Buzzfeed.
Allow me to fix the "Can no longer express themselves safely." You actually mean "Can no longer impose restrictions on Speech on others according to a political view."  And yes, you can still correct people about your pronoun, but a) You can do so without being an impolite little shit and b) Some people simply do not give a care about your feelings because they go to college to learn stuff, not be involved in the politics of stupid..
"School stresses us out enough without us having to worry about the people who already yell at us for being 'sinners,'" added Michael Allen, 29, an arts major with green hair.
It is called Free Speech. Deal with it. Ignore the assholes, they have rights too even if it gives you a rash in your nether regions.
The building containing the LGBT center, as well as the veteran students' center, is not an exclusion zone, which many of the students in the LGBT center didn't realize until someone looked it up during a conversation with BuzzFeed News. The students sat in stunned silence for a moment before Foley said, "Wow, I just assumed it was, out of common sense."
You keep saying common sense, I don't think you know what that means.
Some students said that the fact that the guns can't be seen makes it even more intimidating. "Anyone you get into a philosophical argument with in class might have his hand on his gun while you're talking," one student, who asked to remain anonymous out of fear of retaliation, told BuzzFeed News. "I already feel it affecting my education."
No, self-imposed stupidity is affecting your education. Research Concealed Carriers before opening thy trap. You may find that they are probably more law-abiding that your own fluctuating gender group.
"The whole point of being at university is being able to speak your mind," she said. "This dampens that because people never know what the person next to them might be thinking about what they are saying."
Oh sure, we know universities are bastions of Free Speech, right? No single house of higher education would sabotage or impede speech because a small group of whiny little jackals got triggered, complained and assumed fetal position at the nearest Safe Space.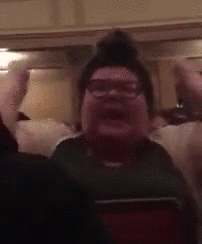 Many of the students said that despite not wanting the guns on campus, they were comfortable around guns, or even "loved" them.

"I grew up around guns," Ethan said. "My parents had them for protection." But having them in a college environment was just different, he said.

Foley said that they also grew up around guns, and that their boyfriend of nearly five years keeps a gun on their beside table every night. But this doesn't stop Foley from fearing the actions of their peers.
And I guess the lessons did not take. LGQTB people cannot be freely bashed if the repercussions for those actions are deadly. But it is more fashionable to be a victim than to stand for yourself.
If instead of wasting time trying to come up with a gender definition that sound like a bad tongue twister,  the first thing you should do is being responsible for your own life and your own safety instead of depending on the kindness of strangers and the perceived "magic" of Gun Free Zone signs.