Look at this picture I found of a Glock that went BOOM!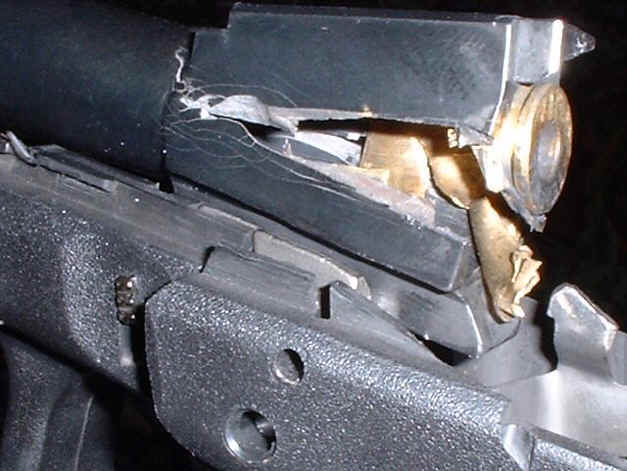 The forum that I found this image on says it was a Glock in 40S&W.  The chamber dimensions for a Glock 22 and 23 are the same, the recoil lug is different.
Nominal wall thickness at the thinnest part (right were it split) is 0.090 inches.
Glock barrels are made from heat treated S7 tool steel with a ferritic nitrocarburized surface finish.  The FNC adds to wear resistance but doesn't do much for overall strength.
At 37 HRC (core hardness after FNC in steel) tensile strength is roughly 290,000 PSI.
A 40 S&W has a SAAMI peak pressure of 35,000 PSI.
If anything is just a little off, kA BOOM!!!
ABS plastic has a tensile strength of 6,200 PSI.
A 380 ACP has a SAAMI peak pressure of 21,500 PSI.
If I do a simple thick wall pressure calculation using a pressure of 21,500 PSI, and OD of 1.25 inches, and a bore diameter of 0.374 (case diameter of a 380 ACP) I get a surface hoop stress of 4,210 PSI.  That is less than a 2,000 PSI margin of safety.
Doing the same calculations on the Glock barrel, I get a hoop stress at the thinnest section of 68,000 PSI in a material with 290,000 PSI tensile strength.  A considerable margin of safety.
The internet, celebrities, activists, and politicians can go as nuts as they want about this thing.
I ain't going to set one off.