I read liberal websites and I read conservative websites.  I try to maintain a balanced viewpoint to the best of my ability.  Sometimes I'll read something that is so outlandish, so conspiratorial, that I have to say "no way this is real."
I'm having a moment where one of those "no way this is real" moments is becoming plausible.
Gay marriage wasn't on the political radar when I was a kid.  Under President George W. Bush, the idea of a Constitutional Amendment banning gay marriage was still being floated by the Far Right.
Obama was anti-gay marriage in 2008 then pro-gay marriage in 2012.  The Supreme Court ended gay marriage bans in 2015 and the cultural shift on that was rather sudden.  All of a sudden, handed a huge legal victory The Left had to win in the popular culture as well.  Forget about individual beliefs.  If a religious person so much as answered the hypothetical question "would you cater a gay wedding" in the negative, they will receive death threats, have their business destroyed, and be run out of town in hiding.
I could care less about gay marriage.  I happened to agree with SCOTUS in Obergefell, the 14th Amendment does provide equal protection under the law and gay couples are entitled to all the LEGAL PROTECTIONS, RIGHTS, AND PRIVILEGES, of a sate issued marriage licences.  Forcing religious people to accept that, was a step too far.  I try to be tolerant, but I firmly believe that people should not be forced to participate in something they have a moral objection to.
As little as five years ago, there was nothing on the radar in the wider pop culture about trans rights.
Then we got Bruce Jenner turned Caitlyn Jenner on TV with his own TV show I am Cait.  Woe beith unto the person who didn't think that Jenner was stunning and brave and the most beautiful woman in Hollywood.  Jenner won an Arthur Ashe Courage Award for being trans on TV.
Jeffry Tambor then played a woman on the TV show Transparent and everybody near that show was nominated for an Emmy.  Laverne Cox was raised up and down for being a trans person on Orange is the New Black.  A transgender child wrote a book and got a reality TV show called I Am Jazz.  Another trans child got a part on Modern Family.  
North Carolina had the temerity to go against the pop culture on this and say that just maybe, biological men shouldn't pee in women's bathrooms and the backlash was YUGE!  The NBA pulled the All-Star game.  Liberal states enacted travel bans to North Carolina.  The NAACP staged a boycott of of North Carolina and the backlash in general cost North Carolina almost $4 Billion.  North Carolina was broken.
This is where my tolerance starts to wane.  I don't hate trans people.  I see it as a mental illness, no different than schizophrenia.  It is a delusion from reality with an egregiously high suicide rate.  What I refuse to do is let someone else's delusion dictate my reality.
That is the next step.  For the real Progressive, it is transphobic (the new zenith of bigotry) to not want to have sex with a transperson because you don't think her penis is a woman's penis.  Yes. That's.  Real.
I didn't think my "genital preferences" were the result of cultural norms or transphobia, but of 1.2 billion years of evolution of sexual reproduction.  But that's just me.
So what's next.  Gay marriage is a thing.  Trans is being forced down the nation's throat.  How much further can we go.
Pedophilia.
"No way," you say.  That's some Far Right paranoia.  Then I saw this over at Gay Patriot.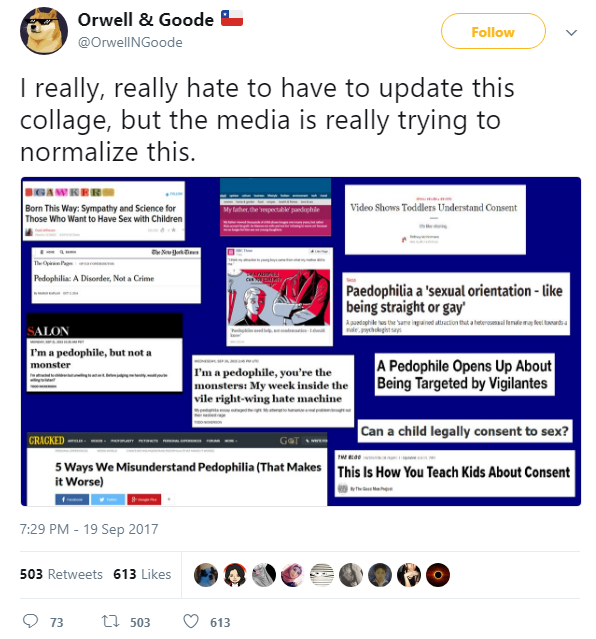 That's a little much.
This is where I become an intolerant fucker.
The Hollywood pedophiles who try and drive the pop culture may try and make this socially acceptable.  Among the wide swath of mainstream America, it will never be.
For those Progressives who don't get this, and saw the victory of gay marriage and transgenderism in the mainstream, they are playing with fire.
Let me put this in terms they will understand.
The use of Rorschach here is appropriate because he was a vigilante.
In a civil society, civil people expect the law will exist to protect them.  If the law stops doing that, they will protect themselves.
Right now, the law exists to protect children.  If that changes.  If the Progressives make it so the law protects the monsters that pray on children, we will protect our children.
The day The Left makes is socially acceptable for some 40 year old man to hit on my 3 or 5 or 7 year old in public is the day I find it social acceptable to stick a knife in a pedophile's throat in the checkout line of the Kroger.  Cleanup aisle 2.
When the day comes that the Police cannot arrest an adult for having sex with a child is the day Middle America starts lynching pedophiles.
We won't be trapped in here with those perverts.  They will be trapped in here with us.