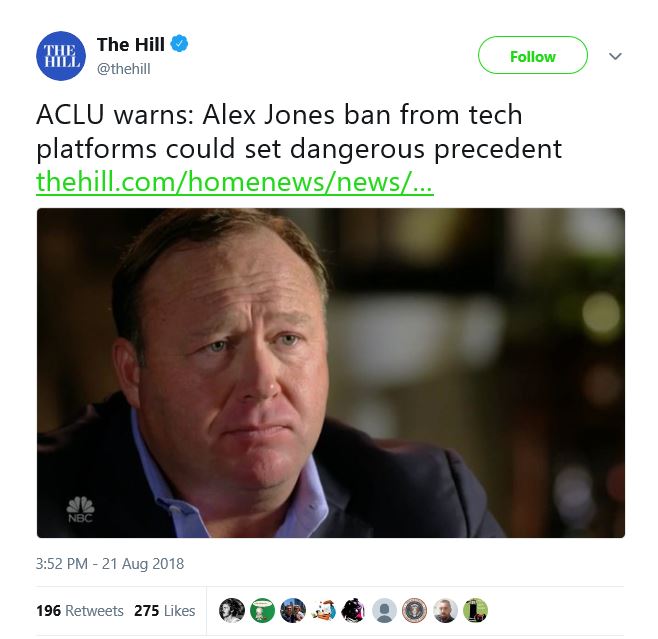 Ben Wizner, the director of the American Civil Liberties Union's (ACLU) speech, privacy and technology project, warned Monday that bans against Alex Jones and Infowars could set a dangerous precedent.
Wizner told HuffPost that the hate speech policies many social media companies cited when they banned Jones can be "misused and abused."
…
Wizner said companies had a constitutional right to regulate speech on their platforms, but added that hate speech "turns out to be an extremely subjective term."
"If [Attorney General] Jeff Sessions, for example, were deciding what's hate speech, he would be less likely to think KKK and more likely to think [Black Lives Matter]," he said.
ACLU: Alex Jones ban could set dangerous social media precedent
Dancing Monkeys and Performing Bears have is that they are damned slow to realize that the laws used against their enemies and they cheer so much about will eventually come back to be used against them.  I call it Getting Robespierred:  Being destroyed (politically or otherwise) by the same Revolution you worked so hard for and became an elite member of it.
If there is a truth is that things evolve or change, nothing is immutable. The Social media of today will disappear and Facebook will be as influential as AOL Chat Rooms and that the Champions Against Free Speech will end up with half a face blown up waiting for the blade to fall after found guilty of Hate Speech.