You, me, any normal citizen would think that if you were going to Congress and give a statement that is less than truthful (or plain lie) there would have to be some repercussions. Today and thanks to C-Span, the internet and political junkies fact-checking what is being said, it is less of a problem.
But what about 30 or 40 years ago? Here is an example in the form of the statement of Rep. Mario Biaggi (NY) in front of the 1985 Committee of the Judiciary that led to the Law Enforcement Officers Protection Act: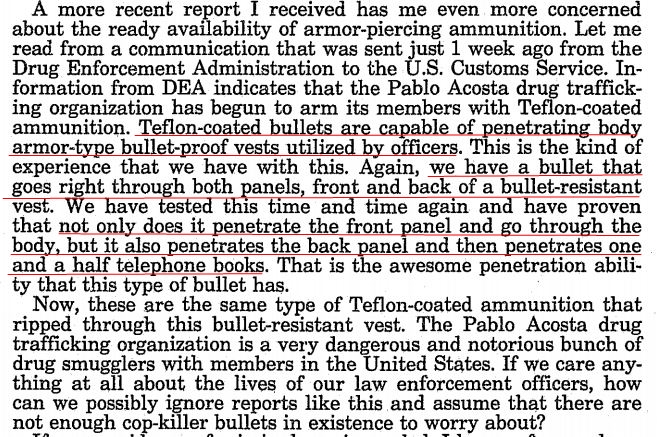 By now we The Public know that the whole thing was made up. That the Teflon had nothing to do with the penetration into soft body armor and as far as I know, not a single LEO wearing body armor was shot with Teflon Bullets much less killed.  But what called my attention was the bit about the Drug Lord arming his minions with Teflon ammunition, where did he get it? And I say this because there was only one company manufacturing this very expensive and not available for the public ammunition.
After a lot of political wrangling behind the scenes, a compromise was achieved. The original bill which demanded that any type of ammunition capable of defeating soft body armor was supposed to be banned. This was perhaps the boldest move since NFA 34 eliminate firearms from our culture (NFA 34 was originally intended to ban all handguns from civilian possession) as it would practically eliminate almost all rifle ammunition. But thanks to a lot of behind-the-curtains lobbying, it got watered down to the version we have today in the books which mimics the military standards for armor-piercing of materiel.
The controversy resurfaced for a bit with the Black Talon bullets which were identified also as Teflon-coated (it was a proprietary oxide coating called Lubalox) and basically the redneck's version of a tactical nuke. Winchester was smart enough not to fight it, let the issue die and come back later. No legislation was passed forbidding this method or either moly-coating even though it was also compared to Teflon.  Nosler offers bullets for reloading coated in Lubalox.
But without lying, the Gun Control agenda cannot advance. I gotta find the congressional record about the Glock pistols "invisibility" to airport X-Rays. that was another fun one.