From CNN:
American gold medalist kneels during national anthem at the Pan Am Games
American gold medalist fencer Race Imboden knelt as the national anthem played Friday at the Pan American Games in Lima, Peru, to protest racism, gun control, mistreatment of immigrants and President Donald Trump.
"We must call for change," he tweeted afterward along with a photo. "This week I am honored to represent Team USA at the Pan Am Games, taking home Gold and Bronze. My pride however has been cut short by the multiple shortcomings of the country I hold so dear to my heart. Racism, Gun Control, mistreatment of immigrants, and a president who spreads hate are at the top of a long list.
By gun control, he doesn't mean he's protesting gun control.  He's protesting for more gun control.
One of the images that goes along with this is just amazing.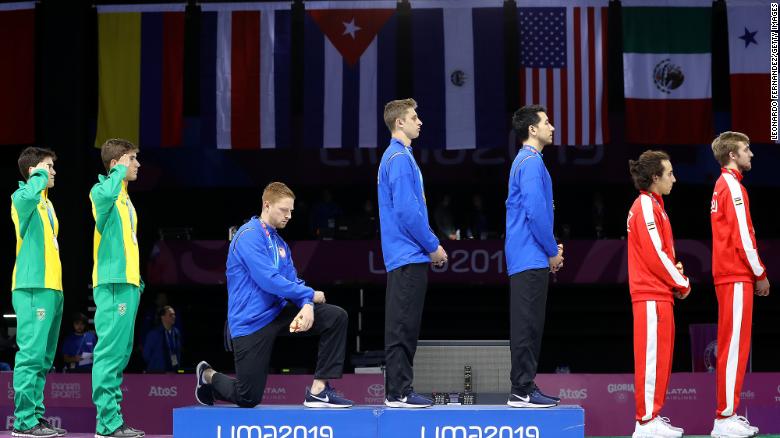 Yep, that is him kneeling in front of the Cuba flag.
The Venezuelan's are fielding a pretty successful team there this year, picking up 37 medals already.
Like the Soviet Block countries during the Cold War or China today, that is possible because while the people starve, the government backs these teams.
So what we have here is an American, kneeling in protest against American civil rights in front of the privileged athletes representing the failed, oppressive socialist states of Cuba and Venezuela.
Maybe if he wants more gun control, he can emigrate to one of those nations and go play for their national teams.  His privileged status as a national athlete should insulate him against having to eat out of a dumpster, being disappeared to a political prison, or run over by an armored car.