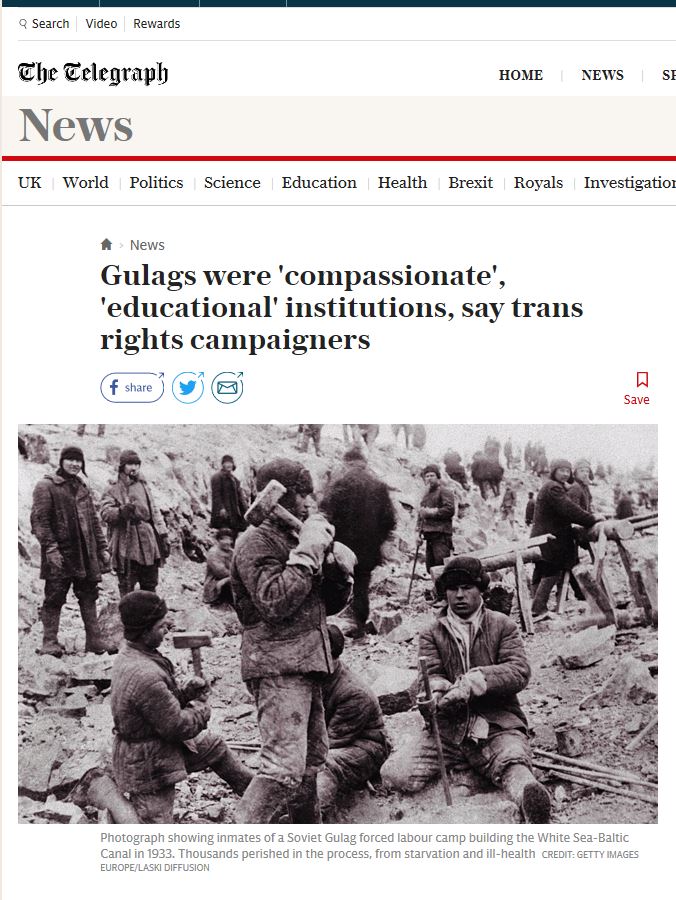 Students at a leading London university have been condemned as blind to reality after defending the system of Soviet Gulag labour camps where thousands perished as "compassionate" places of rehabilitation.

Trans rights campaigners at Goldsmiths University described the Gulags as benign places where inmates received education, training and enjoyed the opportunity to take part in clubs, sports and theatre groups.
Gulags were 'compassionate', 'educational' institutions, say trans rights campaigners
We know that Gun Control advocates like Ladd Everitt and CSGV loves some mass incarcerations and support the Japanese relocation camps. But we see now that the compassionate Left around the world also like the idea but they just kept it under wraps waiting for the right moment to express their support.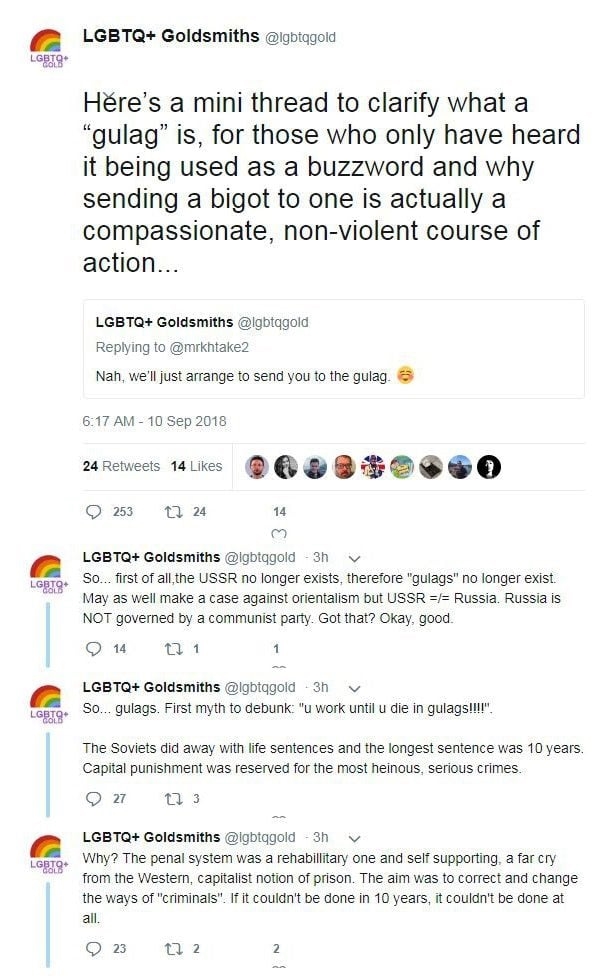 When I was a young lad, The Gulag Archipelago and A Day In The Life of Ivan Denisovich  were the books about Gulags and prisons that cracked open the reality of the Soviet treatment of its citizens. It finally removed the idea of Stalin being a kind uncle, a cuddly bear who cared for its people like they were his own children and displayed the viciousness of the Soviet Regime. The books made it out to the West and had the very reluctant blessing of the Politburo which wanted to appear not the demons the Republicans painted them to be but more like the willing but misunderstood partners that the democrats kept pushing.  And even after the horrors were exposed, the soviets did not terminate the programs but kept feeding enemies of the Soviet Union. In fact, some of the camps never even closed after the fall of the USSR and are now housing the criminal element of the new Russia…or so they say.
And although this exchange happened in England, do not make the mistake that there are not people who have the same feeling about those who dare oppose them and have no problem sending us to a local Gulag for the proper re-education into proper serfdom.